Eupe Corp Bhd's Datuk Beh Huck Lee and Datin Michelle Gan Eileen
From the outside, Datuk Beh Huck Lee and wife Datin Michelle Gan Eileen appear to be an unlikely pair — "complete opposites", describes Gan.
According to their own words, Beh is composed, stable and takes his time in making a decision, while Gan is impulsive, creative and loves to go off-tangent. And as fate or love would have it, their contrasting personalities have turned out to be complementary instead.
"I think our different personalities, when put together, become complementary and create a positive dynamic. I'm more perspicuous and intuitive, whereas he will step back, re-think and consider or contemplate the whole scenario before making a decision. I think we complement each other like yin and yang — like a balance," says Gan.
The couple has been with Kedah-based Eupe Corp Bhd for more than a decade. Beh is the group managing director and CEO while Gan is the head of marketing and design.
"We've been working together since the day we've been married. He is the big boss who oversees everything in the company and I'm the head of marketing and design. Strategic decisions are by him while I focus on the details. I guess home and office are the same," says Gan.
Describing his role in the company, Beh says he gives the overall direction and perspective to the whole team, tries to drive the best performance from them as well as plans work matters and evaluates them objectively.
"So my role is supposed to be a person who doesn't pre-judge and immediately jump into action. I have to balance the needs of everyone in the company, especially for sustainability. Whereas for the different heads [of departments], they're supposed to be the key implementers.
"As the head of marketing, Michelle's strengths are that she's very passionate about things and very detailed in bringing ideas into fruition. She's not the kind that would just talk about things — she would go ahead and just do it," describes Beh, drawing laughter from his wife.
"This is the first time I hear him say this about me," she says.
At home, Gan takes the rein in running the household. "We do discuss certain things from time to time, especially when it concerns the family. We are different in many ways but we share similar values and principles so that makes things easier," Beh says.
"Because whatever she does, I know it will not clash with my principles and likewise she trusts what I do. So far, we have no major debate or argument," he adds.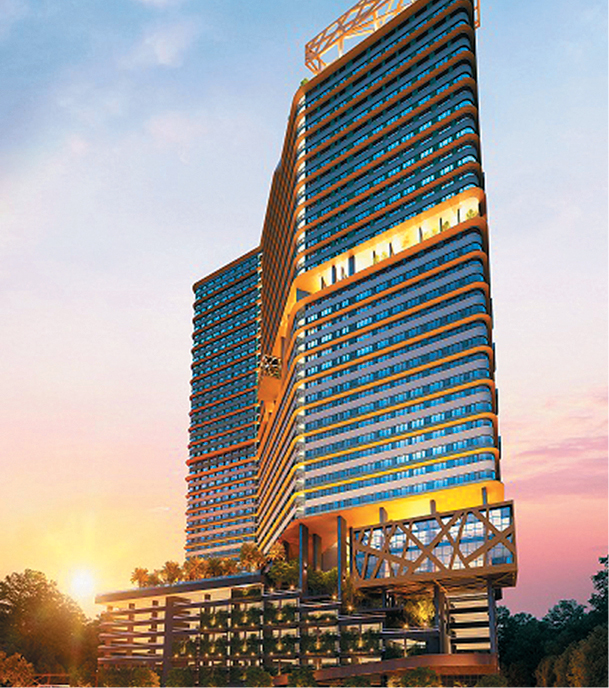 Tough love
Certainly, the couple admits they do have their fair share of quarrels. Gan confesses that it is very difficult to be married to the same person she works with and, as in her case, happens to be her boss as well!
"I mean, we do fight a lot — it's not possible to not fight. It's hard [to not fight] because when you have a job where you're not married to your boss, you can go home to your husband. But I can't. If I had a bad day at work, I go home and I see him [my boss], again!
"That's actually the hardest thing. Sometimes we don't agree [with each other] and I can't go back and 'manja' with my husband because my husband is my boss! But having said that, we realise that our principles are the same — we want the same things for the company, and that sort of outweighs everything else. So even if we do fight, at the end of the day, we want the same things, although we might get to them via different ways.
"Also, sometimes you have to agree to disagree. Someone has to take a step back. Ultimately, it's beneficial because of the balance we create. He would be all strategic and I like design, colour and art. I like to go off the tangent a lot and he will pull me back, asking if I'm sure about it. But if you have everything strategic then you have nothing exciting," she shares.
Impossible to switch off
On how the husband-and-wife team draws the line between work and home, the quick reply from both was "Impossible!"
Beh notes that he finds it very hard to completely switch off from work because the discussions at work are usually brought back home as well.
"But when we go on holiday, the nature of our discussion may be slightly different since we are not surrounded by work materials. But honestly, I find turning off to be very difficult," he says.
Gan agrees, adding that even when they go on a holiday, she'll marvel at interior designs or the architectural structure of buildings.
"It's part of what you do, especially for me who is into designing. Work has become so integrated into our lives. We talk about work at home too, but our family understands that.
"Having said that, we make sure we do spend quality time together as a family like having dinner or watching TV together," says Gan.
The couple has a son and a daughter (both off to college) and they insist they are not going to force their children to join the company later. Eupe was founded by Beh's father, Datuk Paduka Beh Heng Seong, and Datuk Wira Tajudin Hashim in 1986. The developer's maiden project was Taman Ria in Sungai Petani, Kedah — one of the largest housing projects in northern Malaysia during that period.
Most of Eupe's developments are in Kedah including Sky Residences, which is the first high-rise luxury residential project in Sungai Petani; Astana Parkhomes; The Somerset; and Cinta Sayang Resort Villas. The developer is also the owner of Cinta Sayang Resort in Sungai Petani. Eupe was listed on Bursa Malaysia in July 1997.
"We are not going to force them [the children] to join the company. They are free to go after their dreams. Hard as it is, we agreed to let our kids decide their own future — whatever that makes them happy," Gan shares.

The 'glue' that keeps the relationship strong
What is your secret to a successful relationship at work and as husband and wife?
Gan: Don't know if you could call our relationship successful or not, because we fight like hell.
Beh: (laughs) The most important thing is, when there is a strong feeling of affection for each other, whatever differences can be worked out. If you don't have that trust and feeling, then it is down to adopting strategies of managing people.
Gan: For me it's empathy. I try to understand why he acts or feels that way — so if I realised he just had the most awful day at work, then I would be more understanding by putting myself in his shoes. That helps. Sometimes we both are tired from a long day at work, and if he's having a bad day at work, it's usually because he has a huge problem on his hands. So when I do this [putting myself in someone's shoes] then I will hold back [my temper].
And sometimes you have to take a step back and be more accommodating, which is very hard to do sometimes.
Beh: (laughs again) You should look at how I used to dress before I met her… It was terrible, very "jialat" [a Hokkien term for "terrible"]. After being married for so long, we understand each other so well already. I know her strengths and she knows mine. So in certain areas I will just leave it to her. She has also learnt to trust her instincts.
Gan: Our ultimate goal [for the company and life] is the same.
Beh: The nature and DNA of Eupe is to differentiate ourselves from conventional companies. People are aligned to the same principles. We don't believe that there should be some sort of hero in the company. The ethos is the product is the hero. We look at sustainability and it's a reminder that we design our products based on these principles that we all agreed on.
Gan: Yes, ultimately the long-term philosophy is to give back [to the community] — we must give back. That's the belief towards sustainability and it is what drives us forward.

On the property market slowdown
With the growing uncertainties in the global economy, which have also impacted economic sentiments in Malaysia, the local property market climate has been rather cloudy in recent years.
"Honestly, it has affected us in a big way. If not, our Novum project would have received over 200% [more response]. A lot of our buyers were hesitant — it's not the massive take-up that we've hoped for. But we still achieved our target," says Beh.
Novum in South Bangsar is the developer's maiden project in the Klang Valley with a gross development value (GDV) of RM555 million. The condominium is jointly developed with Asthetik Property Group Sdn Bhd and comprises 729 units. It is slated for completion by mid-2019.
"Things would've been so much easier if the economy was better. We also noticed the situation is not just in Malaysia; it's the whole world. Mismatch of income level and affordability, inflation, future uncertainties, high debt level — these factors are affecting everyone.
"I wish bad times never happen but it's a cycle and only natural — just like getting old. But you have to anticipate beyond the cycle and the structural changes because those are irreversible," Beh says. He believes that a property developer should be able to address the structural changes in the market via long-term strategies and by focusing on quality instead of quantity.
He adds that Eupe is willing to sacrifice its profit margin, because if the unit cannot be sold or rented out, it will affect the developer.
"At times like these, we go back to our principles, our shared long-term values. Giving value to our buyers is something we have done along the way, and it becomes more obvious in a market like this. That's why you see we only launch one project a year — because we focus on quality, putting all our efforts to come up with a good product at a good price point," offers Gan.
"Doing so may shift our margins but ultimately it's a win-win. This may be even more relevant in a down market. Shift your margins if needed — happy buyers equal a happy developer," she shares.
Hence, Gan adds, more thought is put into the product design and planning.
"Design and planning are things we can control. We cannot control how much the homebuyers are earning, but we can control the price of our units and the ways we can help the property to appreciate in value in future," she adds.
This October, Eupe is looking to launch Parc 3, its second project in the Klang Valley. The 2.73-acre leasehold serviced apartment project in Taman Pudu Ulu, Cheras will house 793 units in a 46-storey tower. The project has an estimated GDV of RM495 million. The units will have built-ups between 592 sq ft and 1,470 sq ft with indicative prices from RM393,000.
Market outlook
Beh hopes the market will recover by the middle of next year while he foresees more consolidation among businesses.
"Before every recovery, you will hear a lot of negative news, where things are gloomier than ever. To a certain extent, news like these does somehow keep the market down but so far I've never seen a collapse in the indices.
"On the positive side, the market is quite resilient. And while people have been holding back for quite a while, it puts pressure on small and medium enterprises (SMEs).
"If the SMEs can pull through, it's a sign of resilience. The current pressure is on the ringgit, inflation and market slowdown," he shares.

An industrious couple: I-Bhd's Tan Sri Lim Kim Hong and Puan Sri Tey Siew Thuan
Cemented by decades of love: Kerjaya Prospek Group Bhd's Datuk Datuk Tee Eng Ho and Datin Toh Siew Chuon
Mixing business with marriage: M101 Holdings Sdn Bhd's Datuk Seth Yap and Datin Lea Chan
This story first appeared in TheEdgeProperty.com pullout on Aug 25, 2017. Download TheEdgeProperty.com pullout here for free.