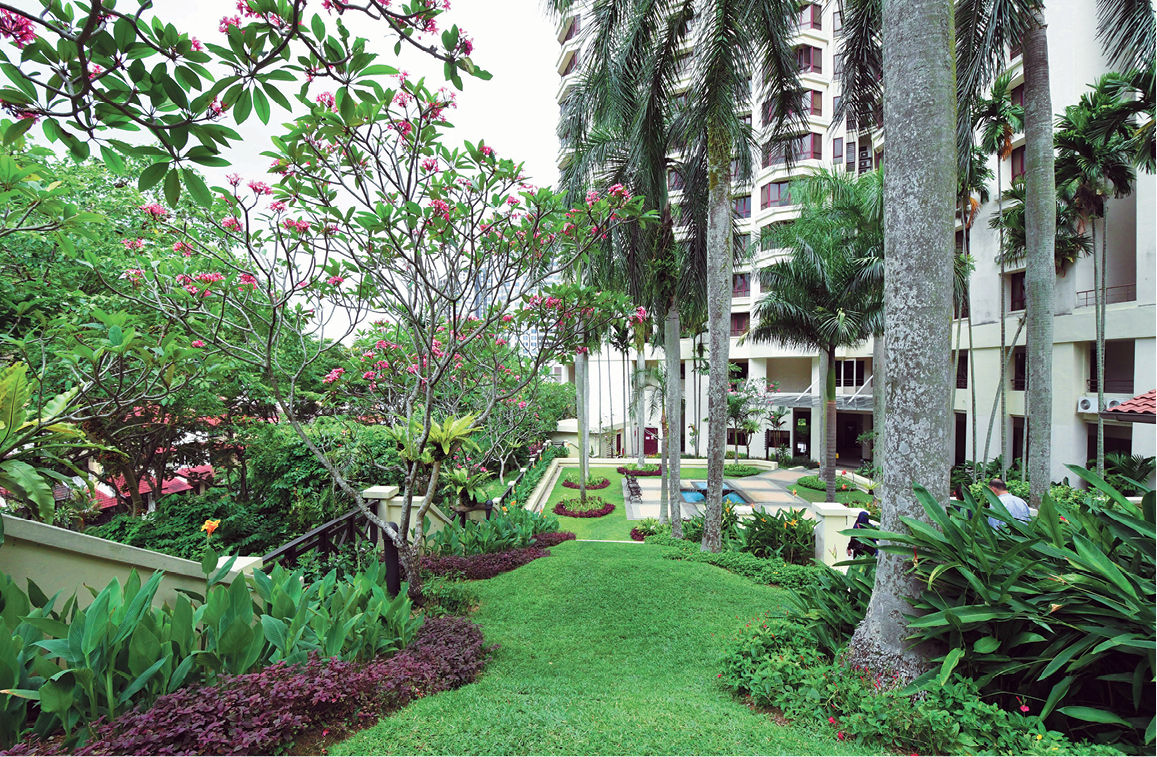 Edgeprop-ILAM Malaysia's Sustainable Landscape Award 2019: Silver: Sri Penaga
Many people think that beautiful landscaping can only be achieved when you have a big budget for it. This certainly holds no truth with Sri Penaga Management Corporation's (MC) small but dedicated sub-committee managing the well-manicured landscaped gardens of the 24-year-old condominium.
The MC's landscape sub-committee member Yuen Cheong Swing shares that even after two dozen years, the landscaping works of Sri Penaga are still very much a work in progress and constantly evolving.
Located opposite Bangsar Shopping Complex at the junction of Jalan Maarof and Jalan Penaga in Bangsar, Kuala Lumpur, Sri Penaga comprises 304 units housed within two 22-storey blocks and one 7-storey block.
"Originally, this condo was designed for empty nesters, so there was not much consideration for facilities such as children's playground. Over the years, more young families began to live here and we decided to increase the playground area by taking up a whole flower bed," Yuen shares with EdgeProp.my.
It is this commitment to ensure that the outdoor environment of Sri Penaga meets the needs of its residents that has given the condominium a Silver at the EdgeProp-ILAM Malaysia's Sustainable Landscape Award 2019 which is part of EdgeProp Malaysia's Best Managed Property Awards 2019. Last year, the condominium was a Gold winner in the 10 years and above multi-own strata residential category of the anchor awards.
Members of the landscape sub-committee led by Yuen were eager to show off the lush landscaped areas of the condominium and Yuen's passion can be felt as she explained what the team has done. Interestingly, some of her team members are unit owners who do not live there but spend time and effort to contribute to the landscaping works and maintenance.
Safety is always first
Stepping into Sri Penaga is like entering a tropical garden. Moving along its meandering pathways, one is surrounded by matured royal palm trees, staghorn ferns, bougainvillea, frangipani, spider lilies, garden ferns and other plants. There are also three water fountains that make up the landscaped areas spanning a total of 1.5 acres.
Yuen shares that some of the plants have existed since the condominium was completed, such as the royal palm trees.
"The palm trees give the place a resort-like feel. One advantage of having these royal palms is that they are self-cleaning so the old fronds can be monitored by the gardener without constant pruning. On top of that, they also provide shade at the swimming pool area," she shares.
The committee also came up with the idea to plant curtain creepers called Lee Kuan Yew creepers to cover about 200m of the concrete wall at the edge of the building along Jalan Maarof.
"We chose this plant because it does not grow its roots into the wall. This was a major concern for the management team as we needed to conduct periodic safety inspection on the wall and slope. This creeper beautifies the place yet allows the wall to be accessible for inspections," Yuen explains.
However in 2016, the MC had no choice but to cut down some old trees near the Jalan Medang Serai slope area after a consultation with a certified arborist as they posed a danger to residents and members of the public who parked their vehicles along Jalan Medang Serai.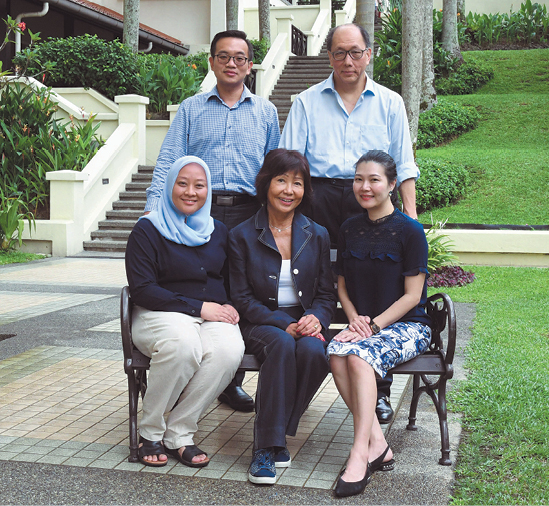 Always open to new ideas
Yuen highlights that it is important for the landscape committee to always be open to new and fresh ideas and perspectives.
"I often offer to take our landscape gardener and building manager to different projects to see their landscaping because they usually have bigger budgets [and can do more things] than what we have [in Sri Penaga]. It doesn't hurt to look at other people's ideas and adapt them at our own development if we want to.
"In many sophisticated landscaping, the people do not utilise them because it's too hot, too humid or it has too many mosquitoes. But you can see at Sri Penaga, parents with young children enjoy the swimming pool, exercise, take a stroll and enjoy the greenery. It encourages a lot of community building and interaction," Yuen shares.
She also notices that people are becoming more health-conscious these days and hence the MC plans to incorporate an outdoor gym for the adults to use near the children's playground.
"We are also working on composting initiatives. Initially, when we first started composting, the smell was so off-putting. But nowadays, through experience, we are getting compost which is much better," she adds.
Sri Penaga also has a herb garden and there is a duty roster of volunteers to manage the herb garden.
"When we first started the herb garden, we ran into some problems because people came and took home the entire plant. On hindsight, I think having the herb garden is a lesson in civics for many of the residents," Yuen shares.
Sustaining beauty with cost management
Currently, Sri Penaga has four gardeners who are hired at a cost of about RM8,000 a month.
"When you have financial constraints, you need to be careful with what you spend on. It is not just the landscaping, the beautiful child who gets all the money. Everything in this condo needs money, we are 24 years old! At the end of the day, there needs to be a balance on how you spend the money. Of course, when the need arises for certain things, we can always call for a meeting to vote on it," says Yuen.
She adds that expensive mistakes have been made such as when they bought plants that were not easy to manage and sustain.
"We always learn. I wanted to plant a flower once and our technician told us that it will be very messy [when it grows]. You have to give respect to him for his opinion because it could be too much work for him to clean later," she says.
Meanwhile Sri Penaga's appointed property management company Henry Butcher Malaysia (Mont Kiara)'s executive director Low Hon Keong shares that the MC committee in Sri Penaga works closely with the property management team and that they often give clear directions to the property managers, which make the decision-making process easy.
"This is especially needed in the new era of strata living. Sri Penaga's landscape is very well maintained compared to many newer developments. They may put in very complicated design just to attract people to buy but after one to two years, there is no maintenance," says Low.
The highlights of the Awards:
Housing and Local Government Minister Zuraida Kamaruddin on good property management:
Lessons in maintenance culture
Returning the shine to The Pearl
For an overview of the winners at the Awards: Tan Sri Jeffrey Cheah named Malaysia's Exemplary Leader of Sustainable Development 2019
For more information about the Awards night and the winners, click here.
This story first appeared in the EdgeProp.my pullout on April 26, 2019. You can access back issues here.