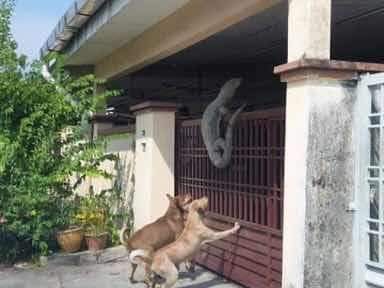 MELAKA (July 6): Photos of a large lizard climbing the gate of a terraced house have residents here fearing reptilian invasions of their homes.
It got so bad that Melaka State Agri­cul­ture, Agro-Based, Entrepre­neur De­­ve­­lopment and Cooperative Com­­mittee chairman Norhizam Has­­­san Baktee has to calm the folks here.
"I have checked with the Depart­ment of Wildlife and National Parks and other relevant agencies but no reports have been received here," he told The Star yesterday.
He said he "was initially surprised" after receiving a call about a "so-called Godzilla" in the house of resident.
Another resident called him claiming that "a monitor lizard had entered a home in Ujong Pasir" and that the family there was so terrorised that they "were afraid to leave their home".
Checks with the relevant departments revealed that "the incident did not happen in Melaka", reported the daily.
Norhizam explained that monitor lizards do get out of their Melaka River habitat at times after flash floods but such incidences were few.
And just in case you want to brush up on your Cantonese, the report also stated that the locals call the monitor lizard sei keok ser (four-legged snake).