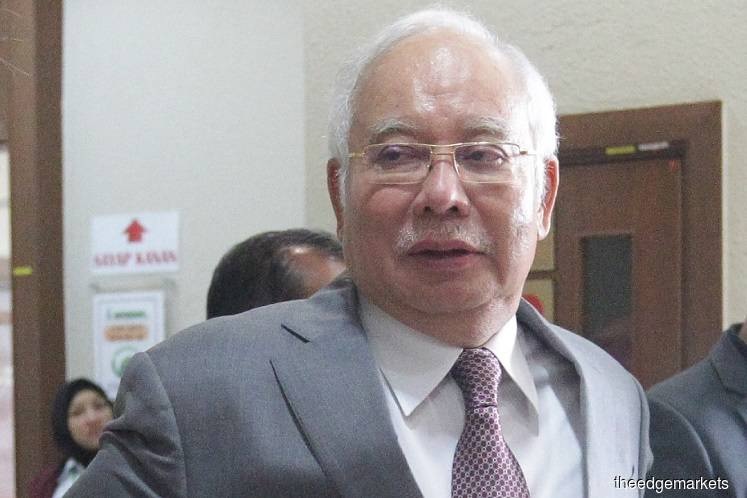 KUALA LUMPUR (Dec 10) : Lead counsel Tan Sri Muhammad Shafee Abdullah will pose several questions to former premier Datuk Seri Najib Razak who faces charges of embezzling of RM42 million of in the SRC Iinternational Sdn Bhd trial.
Shafee said he would take at least one and a half hours to continue his examination in chief after Najib finished reading his 234 page witness statement late yesterday afternoon.
Following that, the former premier who testified on the witness stand will be cross-examined by the prosecution led by Attorney General Tan Sri Tommy Thomas and appointed prosecutor Datuk V Sithambaram.
Yesterday, Najib as with the past three days of his defence, pinned the blame on Low Taek Jho aka Jho Low as he said he never gave authority to Jho Low to manage his AmBank accounts.
"I am utterly shocked that the bank allowed Jho Low manage my accounts as the mandate was given to former SRC International Sdn Bhd former managing director Nik Faisal Ariff Kamil," he said.
Nik Faisal was recommended to Najib by his then principal private secretary the late Datuk Azlin Alias.
He expressed shocked several times in his testimony and news portal Malaysiakini counted Najib as saying he does not know 46 times in his testimony over the whole affair.
The former premier suggested that he got to know from Azlin that more donations would be coming in 2014 from the late King Abdullah of Saudi Arabia and during that year close to RM50 million poured into his accounts from Blackstone Commodities Pte Ltd from Singapore and Seychelles based Vista Equity International Partners between June 23, 2014 to Dec 19, 2014.
Hence the politician who held the highest office in the country thought that it was still the donation.
However the two companies are actually controlled by Jho Low.
The former premier also told the court that the funds stopped coming in following King Abdullah's death on Jan 23, 2015.
Najib also told the High Court of his close to half a million ringgit luxury watch purchase for his wife Datin Seri Rosmah Mansor on Dec 22, 2014 using the credit card.
Rosmah's birthday is on Dec 10.
The former premier denied he had abused his power with regards to the two government guarantees approved by the Cabinet for the RM4 billion loan given to SRC where the purported RM42 million the prosecution claims it originated from.
The Edge is reporting the proceedings of the SRC trial live.