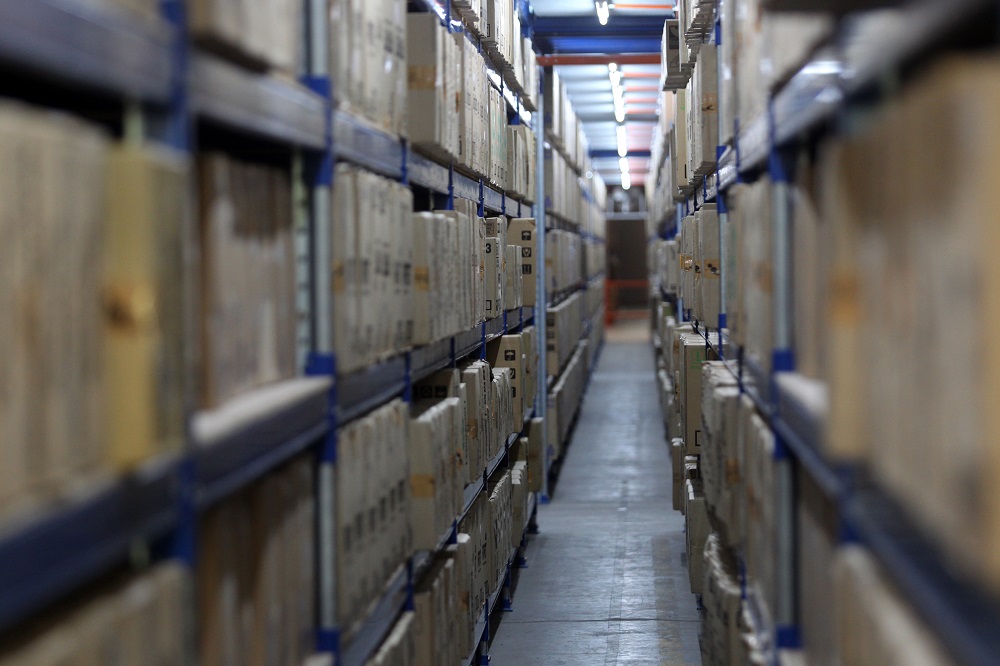 PETALING JAYA (April 30): The expansion of e-commerce may have spurred demand for warehouses/logistics-related properties but the overhang of industrial property sub-segment has seen overhang units rising since 2015.
Read also
Housing loan applications and approvals surged in 2019
KL residential transactions up 1.1% in 2019
Primary market sales improved amid fewer new launches
Sharp rise in Selangor serviced apartment overhang
MAH: Scheduled hotel openings for this year postponed
Johor residential property transactions grew in 2019
Serviced apartment prices under pressure as supply surges
Penang reduced serviced apartment overhang by 50% in 2019
The latest 2019 Property Market Report by the Valuation and Property Services Department (JPPH) showed that the overhang in industrial units had climbed 8.2% from the previous year to 1,280 units worth RM1.87 billion (value dropped 5.5%) in 2019.
In terms of property type, semidee factories formed the bulk of the overhang, followed by terraced factories.
Johor held most of the overhang (completed unsold units), with 554 completed unsold units worth RM1.15 billion or 43.3% of the total, followed by Sarawak (25.2%) with 322 units worth RM215 million.
Overall, the industrial seb-sector recorded 6,261 transactions worth RM14.85 billion in 2019, an increase of 3.8% in volume but declined by 1.1% in value compared with 2018.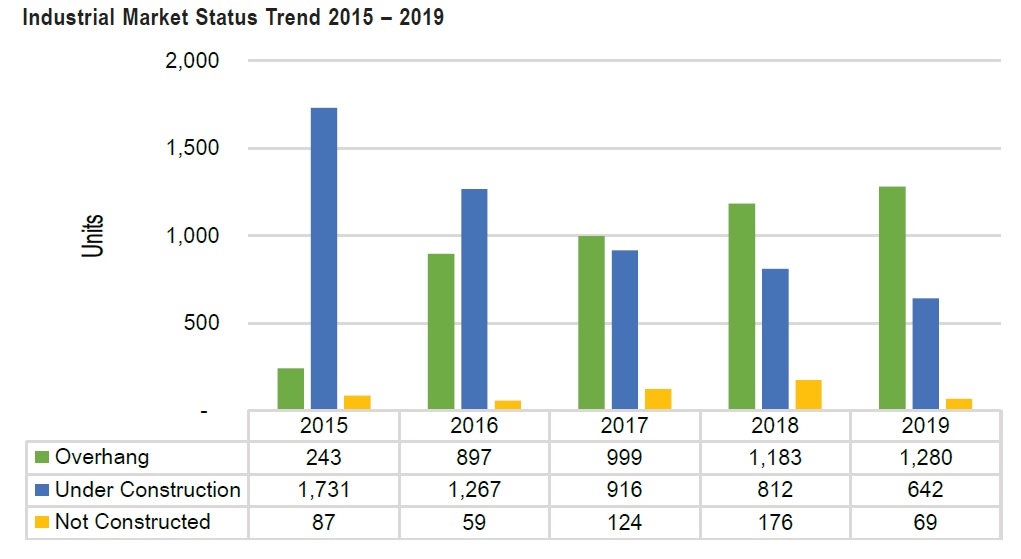 Selangor continued to dominate the market, with 35.3% of the nation's industrial transaction volume, followed by Johor (16.2%), Perak and Sarawak, each contributing 7.6% to the transacted volume.
Prices of industrial property were mixed. Vacant industrial lots with land sizes ranging from 2,400 sq m to 16,000 sq m in Klang, Selangor, were transacted from RM500 psm to RM2,000 psm.
Vacant industrial plots in Worldwide Industrial zone, Sungai Kapar Indah and Kawasan Perusahaan Selat Klang Utara recorded an increase of 26.9%, 10.4% and 9.2% respectively.
Meanwhile, completions and new projects (labelled as starts) in the industrial sub-segment were down by 42.1% to 823 units and 19.6% to 724 units respectively, while new planned supply (NPS) increased by 40.3% to 850 units.
As at end-2019, there were nearly 117,000 existing industrial units, 4,343 units in the incoming supply and 7,169 units in planned supply.
Outlook
"Heading into 2020, demand for logistics and warehousing facilities is set to grow in tandem with the robust performance of the manufacturing sector and the e-commerce platform," stated the report.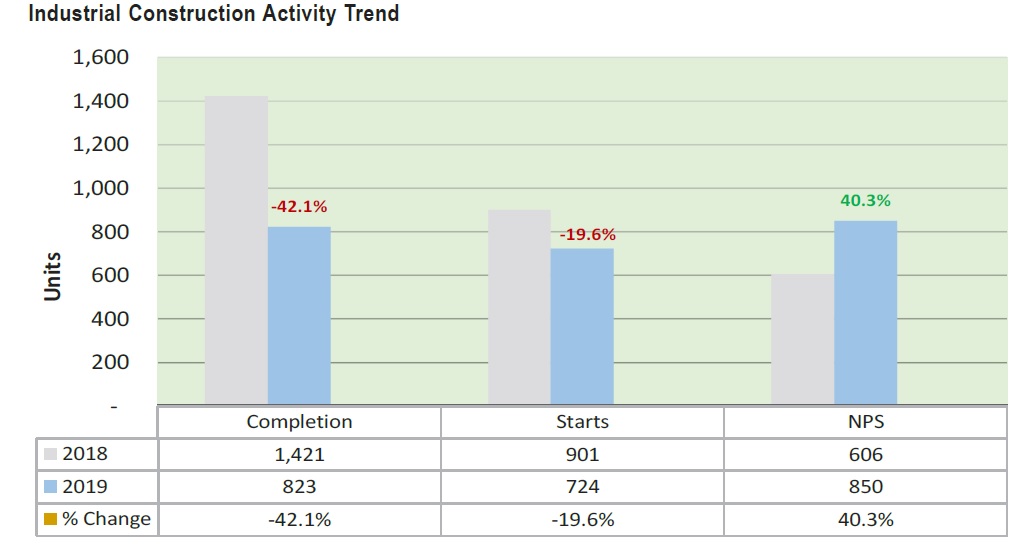 JPPH said Budget 2020 has allocated RM50 million for the repair and maintenance of roads leading to Port Klang to support the logistics sector. The Port Klang Free Zone (PKFZ) will be redeveloped under a transformation master plan, which will involve 404ha of industrial and commercial facilities. The industrial zone is aimed at developing PKFZ into a regional hub to support the growth of e-commerce and digital economy.
Other industrial projects that provide similar functions are: Logistics Hub at KLIA, Logistic Hub @ Ampang in Kuala Lumpur, I-Park @ Indahpura in Johor and Sendayan Technology Valley in Negeri Sembilan. Selangor and Johor are expected to lead the industrial sub-sector in 2020.
EdgeProp Malaysia will be hosting a virtual Fireside Chat titled "The Malaysian property market picked up in 2019! Could this be its last hurrah?" through Facebook Live on May 1 at 2pm.
Join us for more insights from Rehda president Datuk Soam Heng Choon, Rehda vice-president and Selangor branch chairman Zulkifly Garib and Rehda Johor branch chairman Datuk Steve Chong Yoon on the market outlook post-MCO!
Stay calm. Stay at home. Keep updated on the latest news at www.EdgeProp.my #stayathome #flattenthecurve