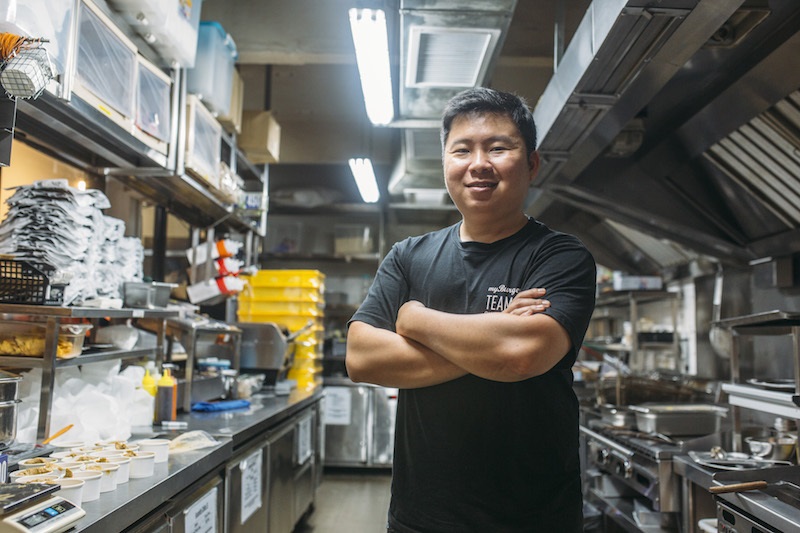 PETALING JAYA (May 15): Food delivery platforms are emerging as the new "landlords" in the new normal brought on by the Covid-19 virus outbreak.
Read also
Going beyond selling burgers and ice cream during the MCO/Covid-19
Dine-ins won't die
Cloud kitchens may not work in Malaysia, say F&B operators

The Covid-19 pandemic caught everyone by surprise and those in the food and beverage (F&B) business have to re-strategise to stay afloat. It was especially tough during the Movement Control Order (MCO) period from March 18 to May 3.
During the EdgeProp.my FB Live Fireside Chat: 'The F&B revolution: When customers can't visit you, what do you do?' which was held today, Inside Scoop co-founder Edmund Tan, myBurgerLab co-founder Chin Ren Yi and Savills Malaysia Retail Services associate director Murli Menon shared their experience during the MCO and what it takes to do business in the current tough environment. The session was moderated by EdgeProp.my writer Natalie Khoo.
Certainly the MCO and Conditional MCO have impacted restaurants and other local F & B players. Many have been forced to depend on takeaways and deliveries which could mean that there will not be a need for as much space for dine-in customers in future. For now, the priority is survival.
"Moving forward, we may consider giving up or reducing dine-ins until the vaccine for Covid-19 is available. But the question now is whether we can survive this current crisis and the next six months. We are trying to win a war, not a battle," Chin noted.
"We do not want to lay off our staff or cut salaries although we don't make as much money as we used to. Giving up is not an option," he added.
According to him, thanks to its well-established delivery business, myBurgerLab saw sales pick up in March compared with January and February but due to high third-party delivery charges, it has to double its sales to break even.
"I've always said that we have a new landlord now, which are the delivery players because we are paying them 20% to 30% of the money we earn. We did better in terms of sales, but not in profit," Chin shared.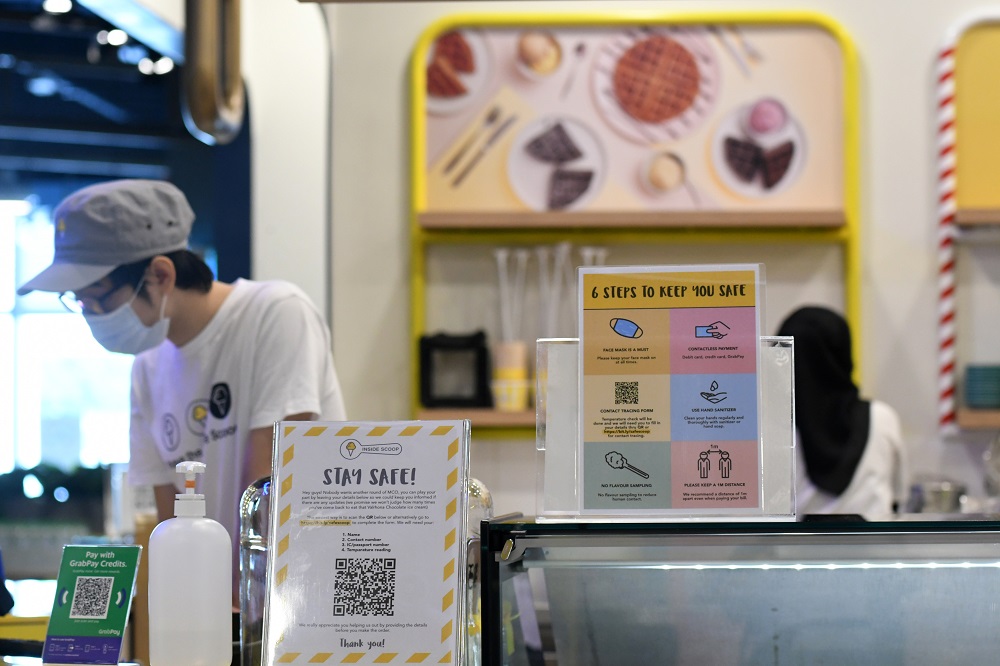 Tan concurred, saying that expenses on delivery services exceeded the cost of rental during MCO. One may be able to negotiate the rental of a space and save on rent but on the other hand, F&B players are now forced to rely and spend on delivery services.
Tan said Inside Scoop is also focusing on riding out the Covid-19 crisis. "We shouldn't be worried about how to make money [at this time] but how to not lose so much money. Giving up is definitely not an option. It is about how hard you fight for now and the next six months," he added.
Recalling his experience during the MCO, Tan said the biggest challenge for the ice-cream business was the uncertainty and in dealing with fresh ingredients -- in his case, the large volume of fresh milk.
"Our struggles were whether to take or not to take the fresh milk; to open or not to open our outlets and whether to let or not let our staff work. The biggest problem was the uncertainty as no one knows what was going to happen," he said.
myBurgerLab's Chin recalled that the first day of MCO was chaotic as he was unsure if the business was considered essential.
"We stayed open the first day and figured out what to do next later. Thankfully, we have been on GrabFood for a very long time. During the MCO, business was good," Chin shared.
Nonetheless, as the MCO extended from two weeks to almost two months, things became more challenging.
Meanwhile, retail specialist Murli said generally operations were the biggest nightmare for all retailers. However, unlike fashion, food is something essential, hence he believes the impact on the F&B sector would be relatively smaller.
"Never waste a good crisis. It is the time to think out of the box," he said.
Stay safe and get more property insights at EdgeProp.my
For the full report on the virtual Fireside Chat read the May 22, 2020 issue of Edgeprop.my pullout.
Interested to know more about what's happening in the property market? Click and watch our previous Fireside Chats:
- The Malaysian property market picked up in 2019! Could this be its last hurrah?
- "Will Malls Be Empty In The New Normal?"
- "Will the Malaysian property sector survive this mother of all crises?"
- "Undervalued Properties: Opportunities or Risk?"
#myedgeprop #epfiresidechat