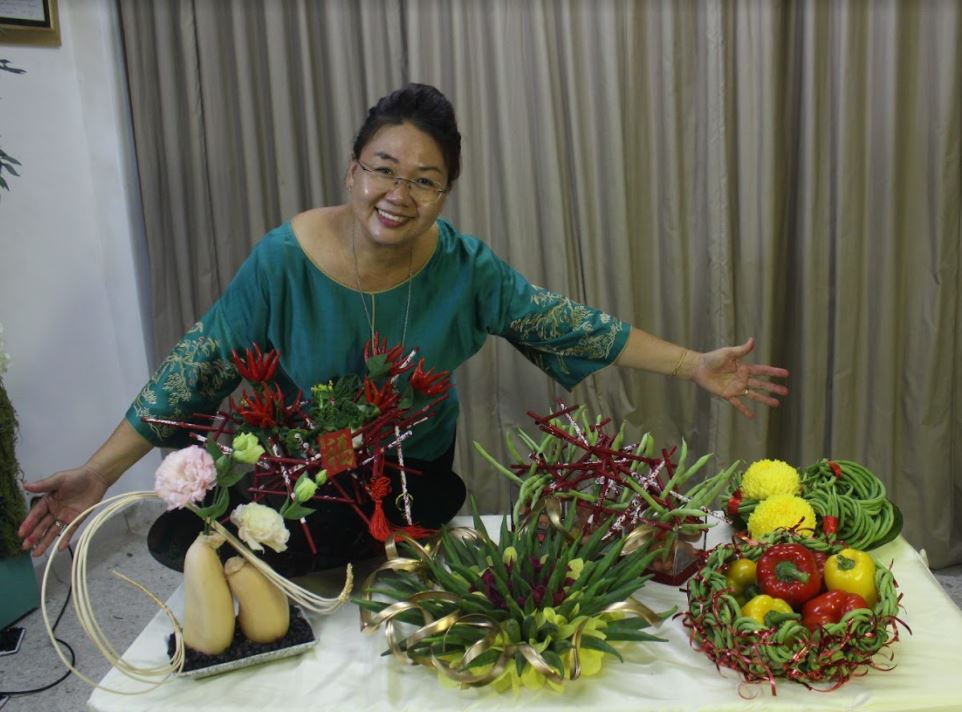 When crafting ornamental pieces for our living rooms, food isn't usually the first material to come to mind. Yet, with a dash of creativity, anything you can find at hand, yes, including edibles, can be dressed up as attractive arrangements.
In the second episode of the EdgeProp.my mini-series "At Home with Eunice", principal of Amtrol Flower Designing Eunice Teo worked magic on some inexpensive vegetables that we normally have at home and turned them into unique decorative pieces.
"Think outside the box" and "curate out of the norm from the things we throw away", Teo said at the miniseries which was livestreamed on EdgeProp.my Facebook page on Feb 16.
Additionally, there is definitely no wastage because these items can be used for cooking the next day when the party is over, Teo quipped.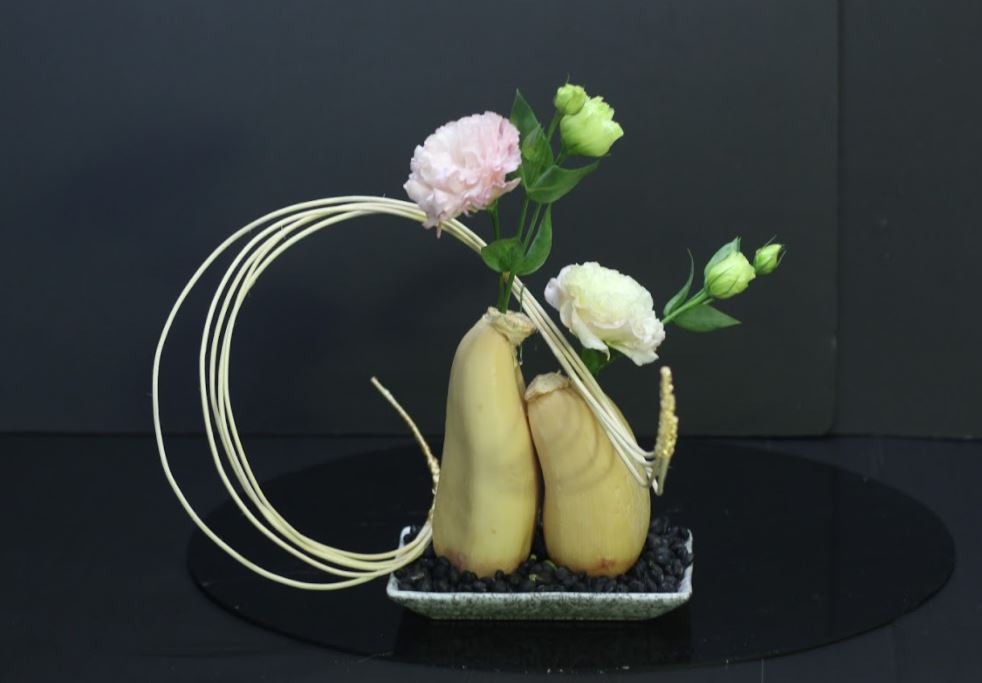 Lotus root vase
In most Chinese households, lotus root soup is one of the traditional servings in family meals.
Describing its curve and shape as having a star quality of its own, Teo said: "They are already presenting themselves."
Making the lotus root take the centrestage of this piece, Teo chopped the lotus root in half and leaned both the pieces against each other. Naming it as "leaning on one another, do not walk alone," she said it is a message she wanted to share with everyone through the art.
For a touch of flair, Teo poked Eustoma flowers into the lotus root pieces and elevated the look with a few pieces of curved rattan around them. Lastly, black beans were placed at the bottom to complete this elegant piece.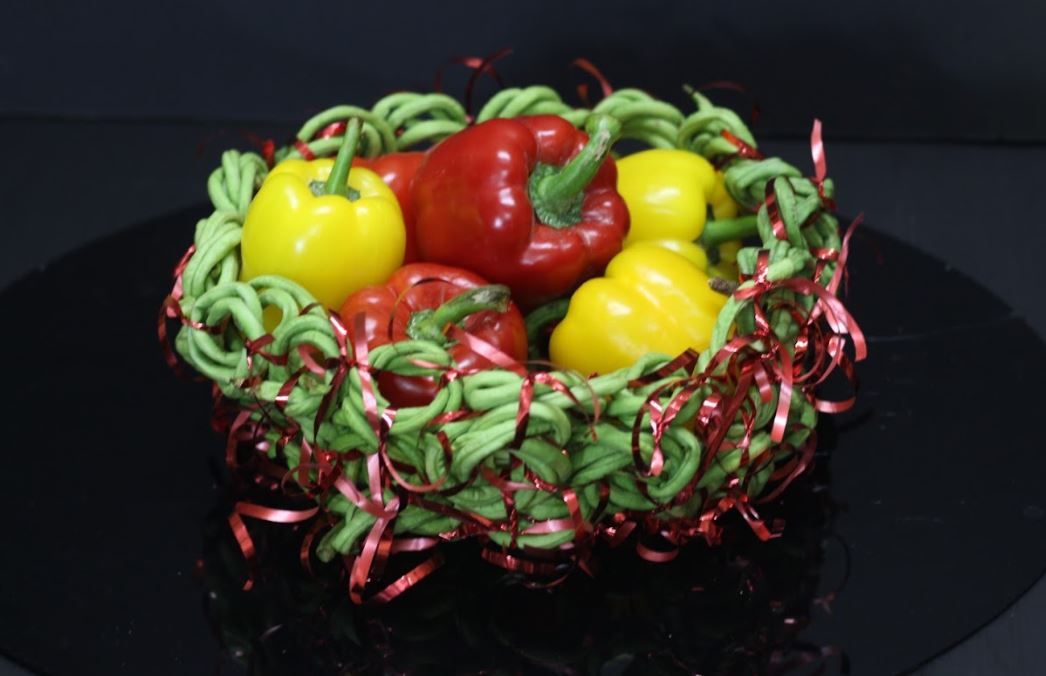 Advantage of long beans
The sturdiness and flexibility of long beans are the advantages employed by Teo in the first two demonstrations. From the long beans, Teo was able to create a basket that was strong enough to hold a few fruit in.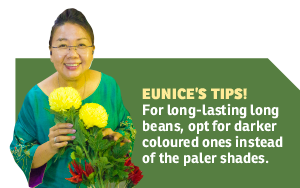 Firstly, roll the long beans one by one into ring shapes, like how long bean yong tow foo is made. To start off the basket shape, place the first ring on top centre of an upside down bowl and join it to other rings using ribbons until they cover whole the bowl. Finally, remove the bowl and we will get a green basket sturdy enough to put some capsicums, tomatoes, leafy greens and chillies either as a table decoration or a gift. Friends who receive this fruit basket will truly appreciate the fact that even the basket can be stir-fried into a nutritious dish.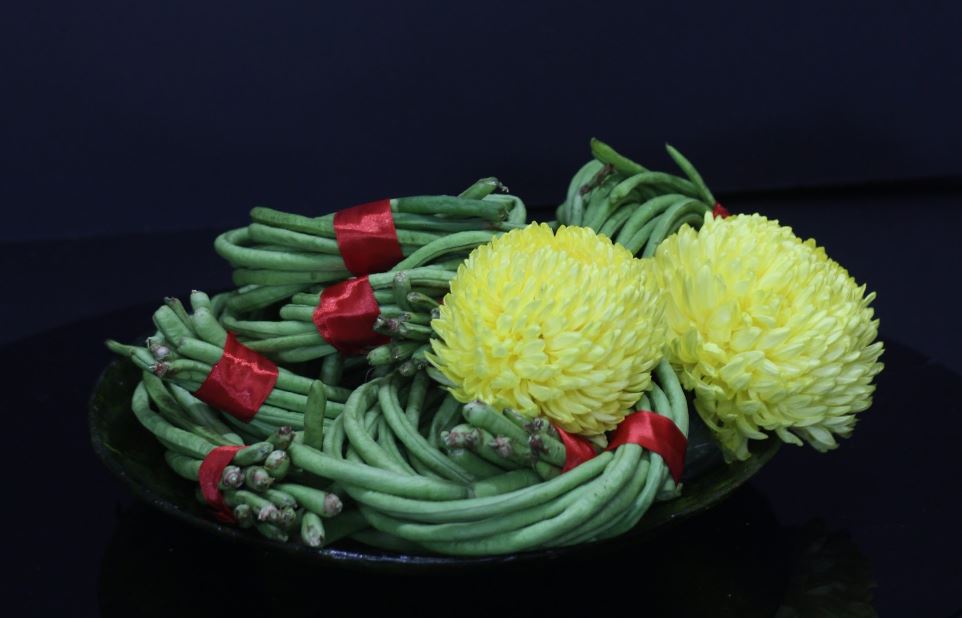 Explaining how long beans are lines that can be formed into any desired shape, Teo also demonstrated another decoration where she tied a few strands of long beans together, twirled them into rounded braids and arranged them on a flat dish. Complemented with a couple of big yellow chrysanthemum blooms, we get a dining-table piece that will brighten any meal.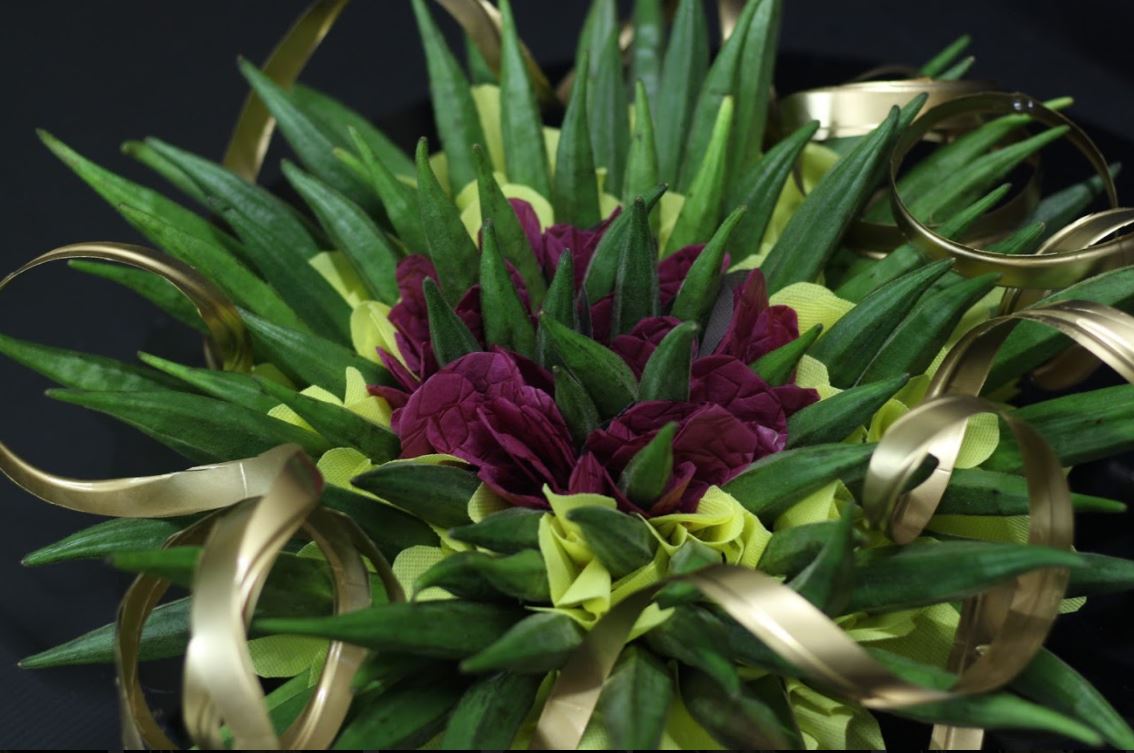 Ladyfinger sunflower
For this design, Teo placed a floral foam on top of a round-shaped cardboard. Affixed with toothpicks on their heads, she inserted ladyfingers one by one into the foam into a radial form.
Next, she shaped little square pieces of wrapping paper into flowers and attached them to toothpicks. The dark red "flowers" filled up the spaces in the middle like the disc florets in a sunflower, while the yellow "buds" surrounded them like petals.
For the final touch, Teo placed long golden spiral strips around the bouquet. Being a strong advocate of upcycling, she revealed the plastic strips had been cut out from mineral water bottles and spray painted in gold.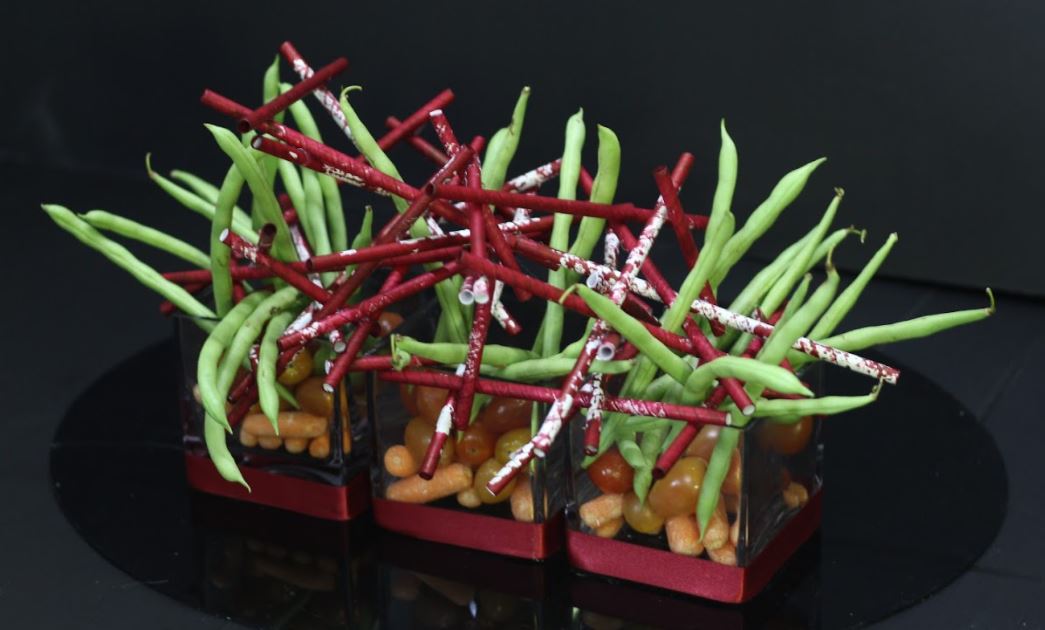 Don't throw the paper straws
This idea popped up when Teo was buying vegetables for the live show. She saw paper straws in the shop and thought how she could piece them together with the veggies she was working on. The result was an eye-catching abstract geometric structure, which Teo said could also be created using disposable chopsticks.
Teo dyed the paper straws in red beforehand. Then, she glued the straws together randomly until she achieved the intended shape of the structure.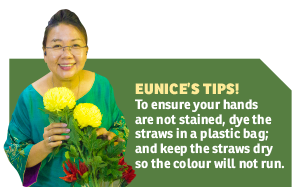 She then placed the structure on top of three transparent containers filled with brightly coloured cherry tomatoes and baby carrots. In between the straw construction, Teo inserted french beans to set a contrast to the red lines. The end-result is a contemporary construction of captivating colours for modern homes.
The straws can be used to make a basket too for holding lightweight items.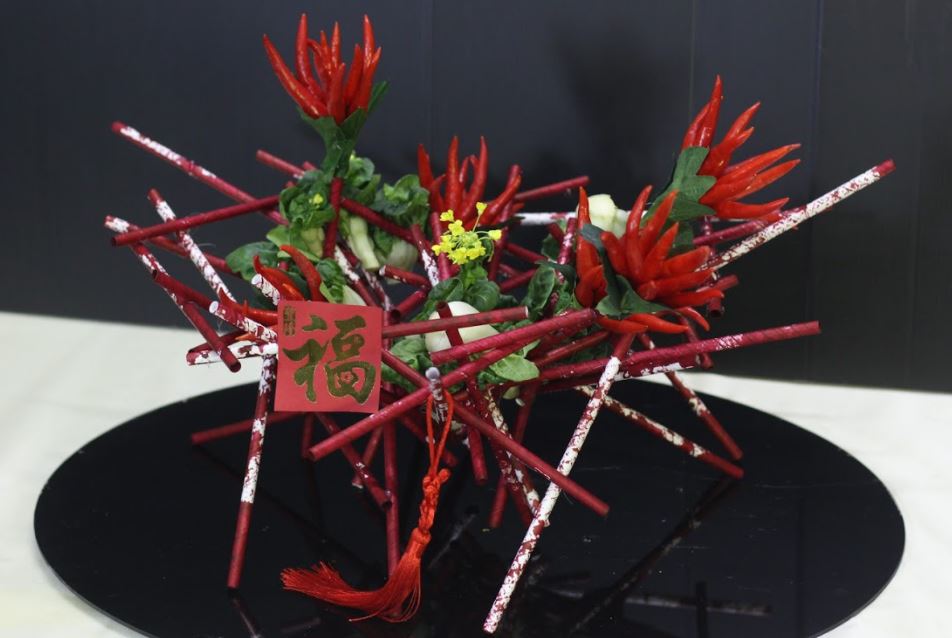 Following the same method as the previous construction, Teo turned the straws into a different shape. Then she bound birds' eye chillies to satay sticks, making them look like red flowers, and fixed them into the basket structure.
She also placed mini bok choy in between the flower-like chillies and the straws. Full of ideas, Teo suggested this piece could be complemented with a cabbage placed in a mini vase with its petals folded inwards like a full-bloom flower. This arrangement would look great on a big table.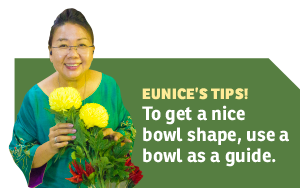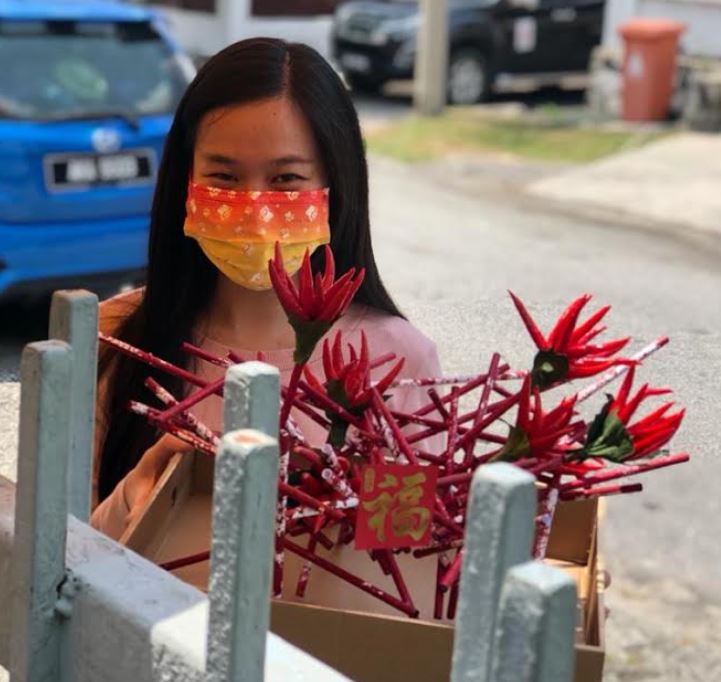 Lucky winners!
At Home with Eunice is presented by EdgeProp.my, sponsored by Matrix Concepts Holdings Bhd, and supported by Nippon Paint Malaysia and Amtrol Flower Designing.
Hosted by EdgeProp.my writer Natalie Khoo, the six-episode mini-series is live-streamed on EdgeProp.my Facebook page every Tuesday 8pm.
In every episode, Eunice Teo will be giving out the décor pieces created for the series to the lucky audiences who tune in and post their questions or comments during the session. Winners and prizes will be chosen by a random number generator.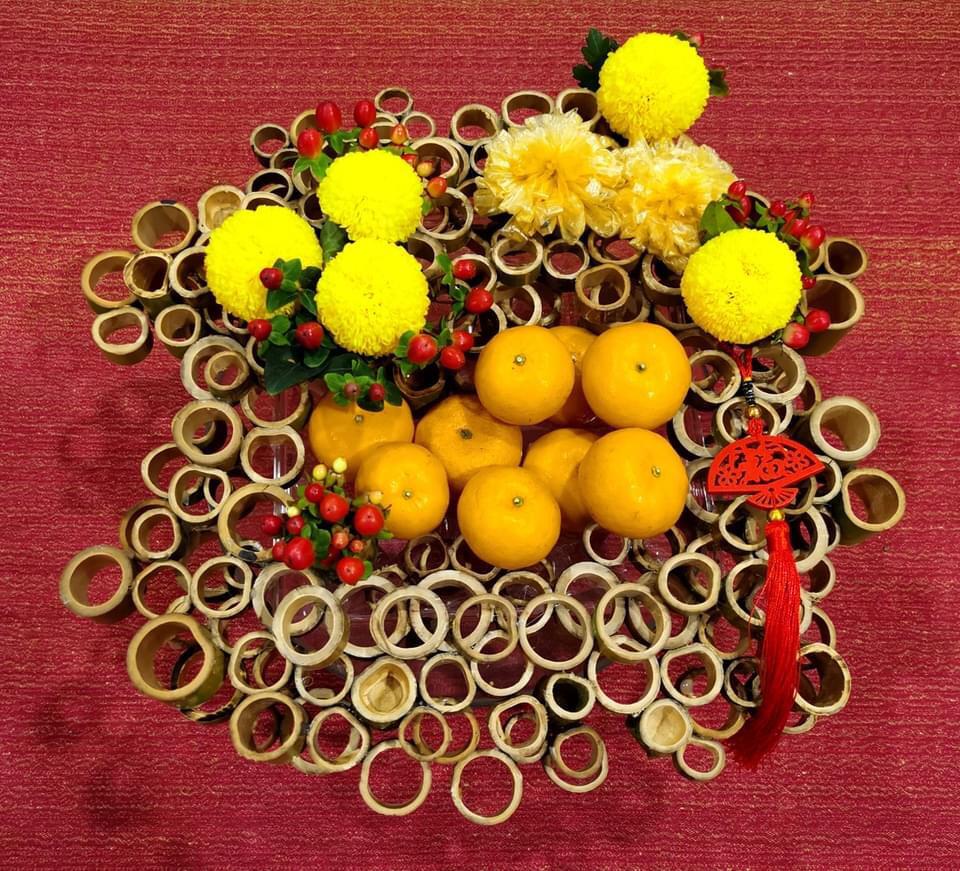 In the first episode which went live on Feb 8, Yam Choi Lin won one of the bamboo structure decors and she used it as a plate with some mandarin oranges to create the festive ambience for her home.
(Click here to view the first episode)
"The bamboo base is very creative and unique," Yam posted during the live-stream of At Home with Eunice.
Another lucky winner was Alyssa who collected her prize on Feb 17 – the paper straw structure. "Creative designs, especially the lotus root decor.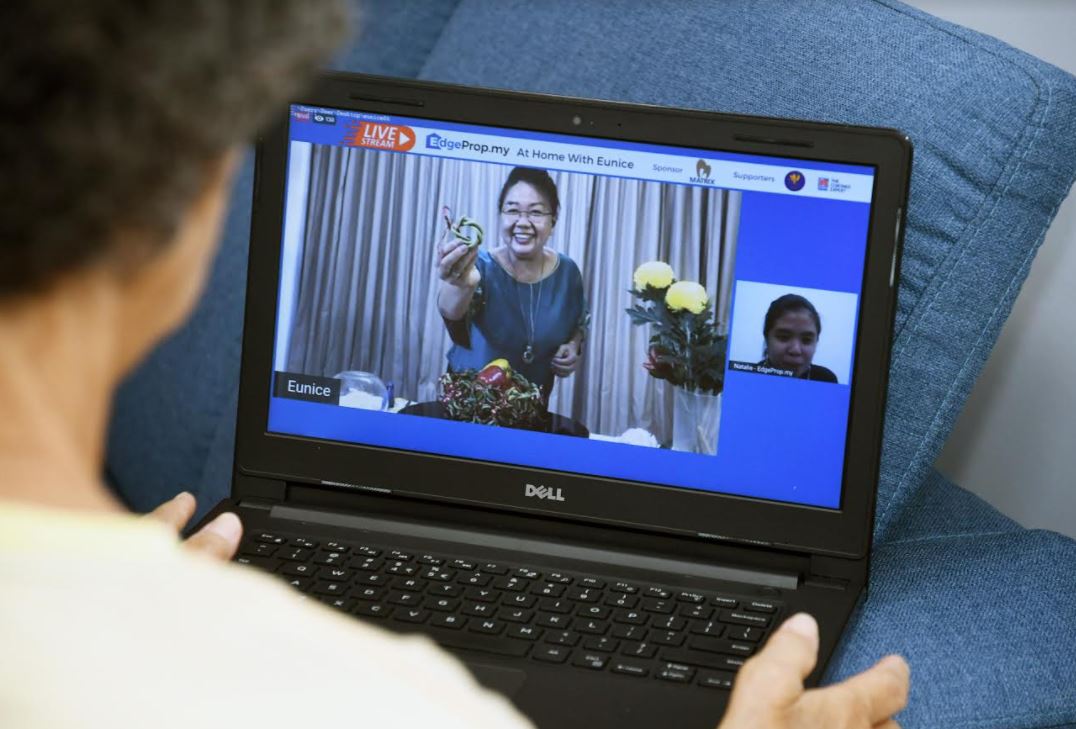 It's pretty and meaningful," said Alyssa during the second episode of At Home with Eunice which went live on Feb 16.
In the next episode, which goes live on Feb 23, 2021, Eunice will show how fruit can easily be dressed up to glamourize a gathering with guests. Stay tuned to explore creative ideas and new decor trends from the comfort of your home!
Click here to register for the reminder of the latest episode of "At Home with Eunice".
Get the latest news @ www.EdgeProp.my
Subscribe to our Telegram channel for the latest stories and updates