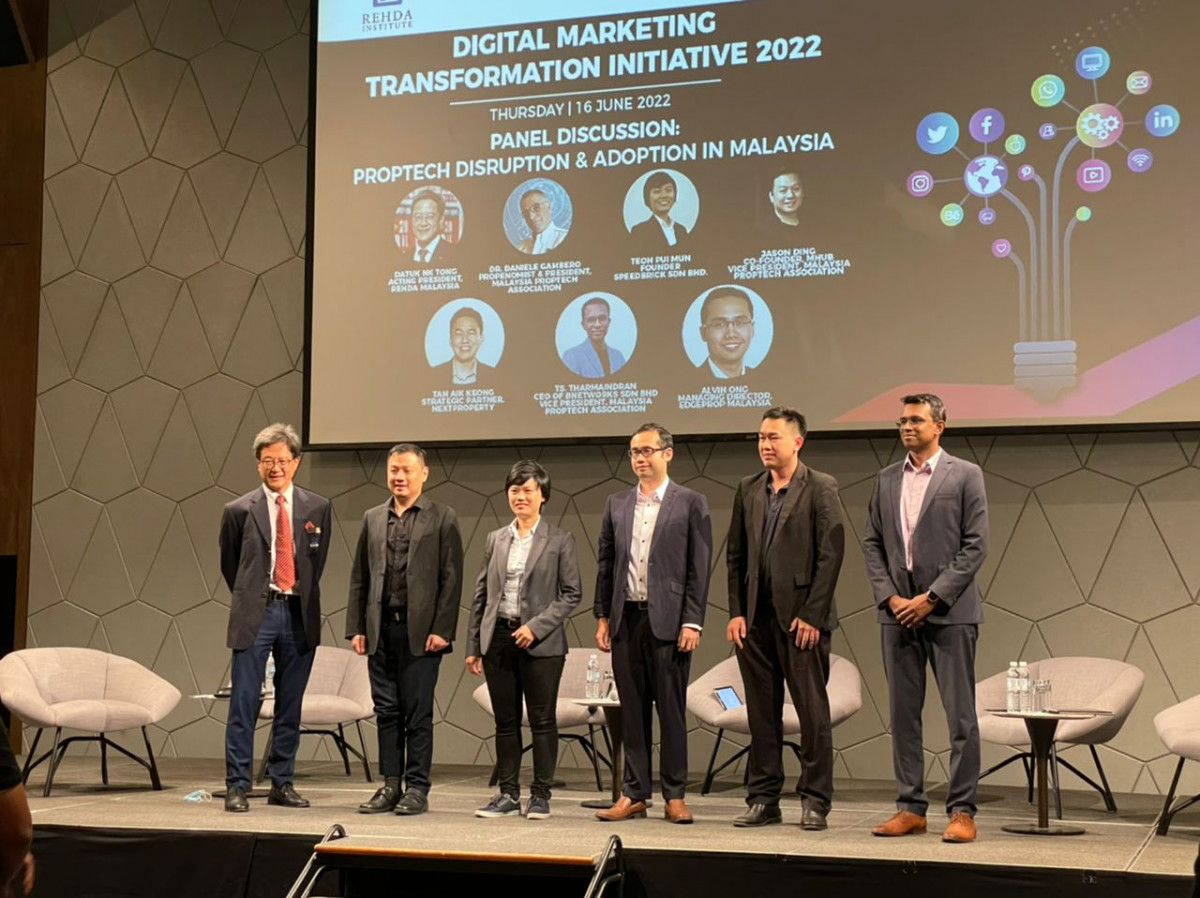 PETALING JAYA (June 22): Property technology, or proptech, has changed the way the real estate industry operates. As we embrace this era of disruption, what are the most common concerns of property developers in adopting proptech?
This was the question posed to the panellists in a discussion titled "Proptech Disruption and Adoption in Malaysia" at the Real Estate Digital Summit 2022 on June 16 at Le Meridien Petaling Jaya Hotel.
The panellists comprised EdgeProp Malaysia managing director Alvin Ong, Bnetworks Sdn Bhd CEO Ts. Tharmaindran K Gannasin, NextProperty Ventures Sdn Bhd strategic partner Tan Aik Keong, Mhub co-founder Jason Ding and Speedbrick Sdn Bhd founder Teoh Pui Mun.
The Real Estate and Housing Developers' Association Malaysia (Rehda) acting president Datuk N K Tong served as moderator for the panel discussion.
"The nature of proptech is such that its solutions are end to end. Functional silos often seen in many real estate companies constrain the end-to-end solutions that proptech has to offer. A single solution may require multiple stakeholders to agree," said EdgeProp's Ong.
"I think the effect of this pandemic is people are now more willing to try new things, and this presents both opportunities and risks.
"On one hand, it is a good time for organisations to make that cultural shift, and to get a higher acceptance in new ways of working. On the other, this also has clear implications to brand loyalty as we know it – because people may not stick to the brands they have preferred previously," Ong added.
Hesitation
Meanwhile, Mhub's Ding noticed that adoption [of proptech] is not holistic at times.
"One department may say yes, but it just does not go through [to the other departments]. On the ground, some staff may fear the technology would replace them. This is rather unfounded actually. In the end, the issue lies with the people, not just the technology. Hence, a proper internal strategy to combat this is needed," Ding said.
Speedbrick's Teoh noted that a large portion of the construction industry is still hesitant to go digital because of the insignificant return on investment.
"85% of the time, they feel it is a waste of money. Hence, a good digital solution is to identify the problems and how to solve them," advised Teoh.
So, "Why is it so critical for developers today to set aside funds for digital adoption within their companies, and what are the consequences if they do not do so?" the panellists were asked.
In response, Ong noted it is not about "how much money are you spending?" but "is it worth it?"
"Not all digital solutions have the same utility. Hence, it is important to distinguish between problems in search of solutions and solutions in search of problems," he said.
Wake-up call
Meanwhile, according to Mhub's Ding, digital transformation is also about upgrading the mindset towards an uncertain tomorrow. "The trends and expectations for the new generations of homebuyers are always changing. The old ways would not work. Companies are losing out if they do not transform fast enough," noted Ding.
"Covid-19 has taught us a very expensive lesson. We are not digitally ready back then. This is a wake-up call for companies to be prepared [to embrace technology]. But that also depends on the key objectives of the company," Bnetwork's Tharmaindran concurred.
Echoing similar sentiments, NextProperty's Tan noted that it depends on the objectives of the company whether to allocate a certain budget for the digital transformation – especially when many companies have already hopped onto the bandwagon. "When it no longer provides you an advantage, it boils down to your objectives – whether to increase customer satisfaction or provide value-added services, among others," Tan said.
NFT
On the topic of non-fungible tokens (NFT) for property investment and its risks, Tan opined that it would not affect the credibility of the developers due to the risks involved. "As long as the quality of the products (the homes) is good, it would not damage the credibility of the developers.
"NFT, to me, is a proof of ownership in a digital format. It offers a way to liquify a property asset and also allows easier access to global markets," said Tan.
While agreeing that NFTs have a sound underlying technology, Ong said that it is crucial to distinguish between NFT that have utility and those which are purely collectibles.
"For instance, utility-based tokens that promise a type of service that have no end-of-life or expiry – does the offeror have the capacity to fulfil what is essentially a perpetual commitment?" cautioned Ong.