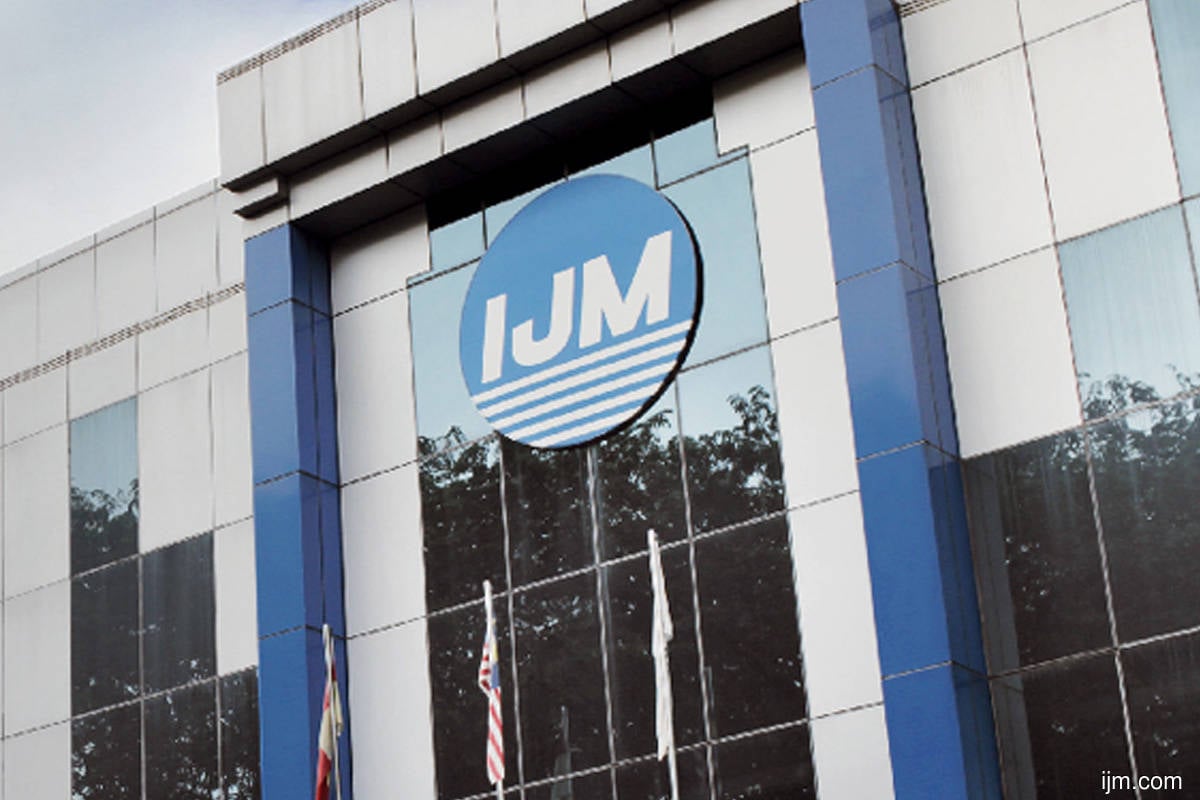 IJM adds that the combined capabilities of the two groups as civil and systems contractors enable the offering of more comprehensive and turnkey solutions for local and international rail project bids.
KUALA LUMPUR (July 25): IJM Corp Bhd is taking up a 44.83% stake in Pestech International Bhd for RM124 million via a restricted issue, marking the construction group's entry into the energy transmission sector.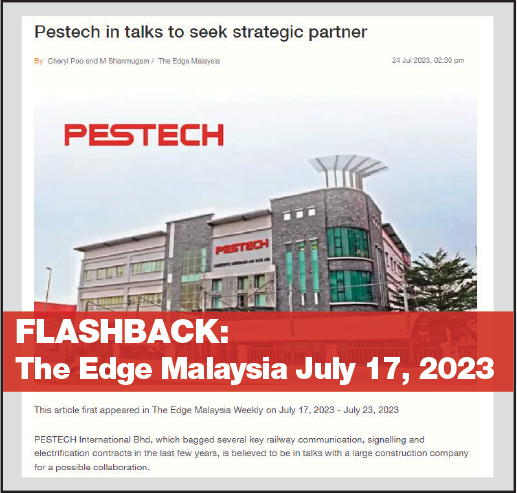 The integration of Pestech's capabilities in railway signalling and electrification also complements IJM's diversified value chain portfolio, said IJM, adding that the combined capabilities of the two groups as civil and systems contractors enable the offering of more comprehensive and turnkey solutions for local and international rail project bids.
The move confirms a report in the July 17-23 issue of The Edge Malaysia, which quoted sources as saying that a large construction company was believed to be in talks to take up a strategic stake in Pestech to strengthen its presence in the railway construction segment of the construction industry. According to the report, the talks were with the view of bidding for several upcoming railway jobs, including the Mass Rapid Transit 3 (MRT3) project.
In a bourse filing on Monday (July 24), IJM said it has inked an agreement with Pestech for the subscription of 800 million shares in Pestech at 15.5 sen per share, which represents a discount of 47.46% over Pestech's last traded price of 29.50 sen, and a discount of 48.98% over the five-day volume weighted average market price of 30.38 sen up to July 21.
This will result in IJM becoming Pestech's largest shareholder with a 44.83% stake of Pestech's enlarged share capital.
Currently, Pestech's main shareholders are its chairman Lim Ah Hock (with a 32.51% stake) and its managing director-cum-chief executive officer Paul Lim Pay Chuan (a 19.32% stake).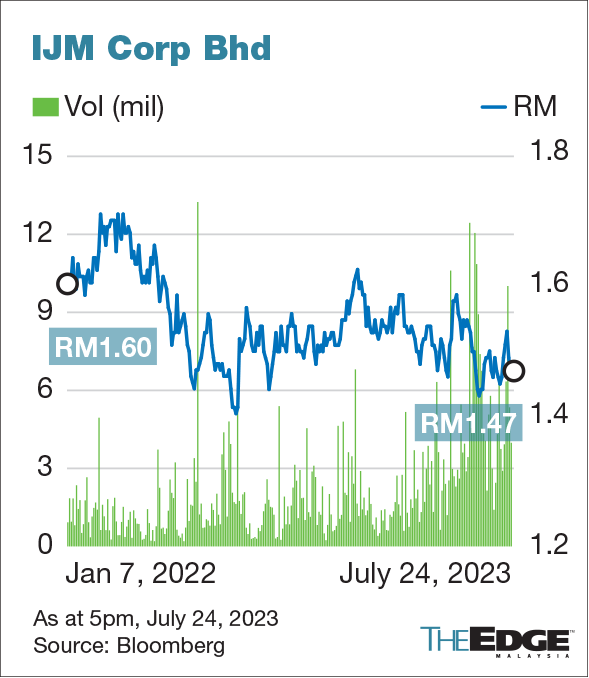 IJM said the share subscription will be funded via internally generated funds or bank borrowings. As at end-March, IJM had short-term borrowings of RM1.71 billion and long-term borrowings of RM3.65 billion. Its deposits, cash and bank balances stood at RM2.83 billion.
"This strategic investment in Pestech brings synergistic opportunities for both IJM and Pestech in the growing energy transmission and rail electrification sectors. By including Pestech's capabilities into our diversified portfolio, we will create synergies and deliver comprehensive solutions to customers across various sectors. Together, we are well-positioned to strengthen our position in the industry, diversify revenue streams and drive sustainable growth," said IJM managing director Lee Chun Fai.
As per regulatory requirements, IJM would be obligated to make a mandatory takeover offer for the remaining Pestech shares and warrants. However, IJM said it does not intend to proceed with this obligation and will seek an exemption from the Securities Commission Malaysia, after Pestech obtains its shareholders' approval.
The completion of the transaction is expected to be in the fourth quarter of this year, the group said.
Alliance Islamic Bank Bhd is the principal adviser while Newfields Advisors Sdn Bhd is the financial adviser for the transaction.
Pestech faces stiff competition from multinational conglomerates
Separately, Pestech said the partnership comes at a crucial time as the company faces stiff competition from multinational conglomerates and limited financial resources that hinder its growth potential. With IJM's investment, both groups can explore and seize opportunities available in regional developing countries, it said.
As with most companies in a developmental stage, it is crucial for Pestech to receive a positive boost that will propel the group further in its growth trajectory, it said.
"By leveraging IJM's strengths, we can expand our capabilities to offer more comprehensive and integrated construction and project management solutions to our customers. There is potential for collaboration on electrical infrastructure concession projects, where Pestech can serve as the engineering, procurement, manufacturing, construction, and commissioning operator," said Pay Chuan, who is also Ah Hock's nephew.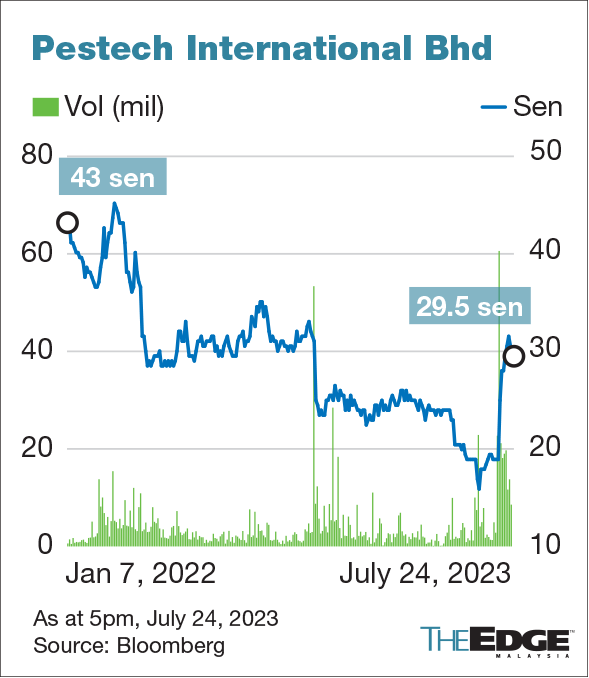 Pestech had a rough start to the year as Ah Hock and Pay Chuan were charged by the Malaysian Anti-Corruption Commission (MACC) on Jan 27 for abetting four payments amounting to RM10.6 million by its wholly owned subsidiary Pestech Technology Sdn Bhd to a consulting company for works that were not rendered. On July 17, the pair was discharged and acquitted of all charges.
A further setback ensued when Pestech's RM399 million job as a subcontractor for the Gemas-Johor Bahru electrified double-track project was terminated by Syarikat Pembenaan Yeoh Tiong Lay Sdn Bhd on May 10. The project was a major endeavour for the company, which in the last two years established itself as a leading contender for railway systems jobs. The systems components comprising electrification, communication and signalling were previously done by foreign companies.
At Monday's closing bell, IJM's share price was down one sen or 0.68% at RM1.47, giving the group a market capitalisation of RM5.36 billion. Pestech was unchanged at 29.5 sen, valuing the company at RM287.83 million.
Note: The story has been amended to say that the charges by the Malaysian Anti-Corruption Commission against Pestech International Bhd's executive chairman Lim Ah Hock and managing director-cum-group CEO Lim Pay Chuan were dropped.