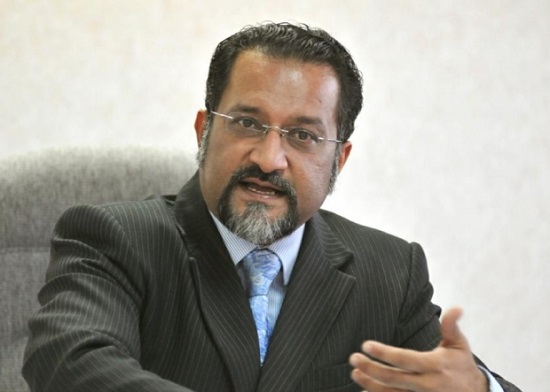 GEORGE TOWN (Oct 13): As Putrajaya pledges to continue to consider how it can promote affordable housing in the soon-to-be unveiled Budget 2016, the Penang government has announced new measures to stimulate the property market in the state today.
State Housing exco Jagdeep Singh Deo (pictured) said the property market was experiencing a slowdown due to economic uncertainties, with the situation of developers being unable to start building affordable units until they have secured 60% takeup, and potential buyers failing to secure bank loans.
Penang had announced last year that 12 projects with 22,512 units of affordable housing were being built and private developers had submitted plans for 12,600 units more, but the main obstacle stopping first-time home buyers from getting a unit was the high loan rejection rate of commercial banks.
Due to this, he said, the state government has decided to "stimulate accessibility" to affordable housing units by:
1. Raising the nett household monthly income ceiling for eligible house buyers looking to buy units priced at RM200,000, RM300,000 and RM400,000 from RM6,000, RM8,000 and RM10,000 to RM8,000, RM10,000, and RM12,000, respectively.
2. Making the previous group eligible for affordable housing earning RM6,000 monthly eligible to buy homes in a new category. Units in this category will be sized at a minimum 750sq ft, priced at RM150,000 and come without finishings.
This means Penang now has affordable homes at RM42,000 (low-cost for households earning RM2,500 monthly); RM72,500 (low-medium cost for households earning RM3,500 monthly); RM150,000 (affordable for households earning RM6,000 monthly); RM200,000 (affordable for households earning RM8,000 monthly); RM300,000 (affordable for households earning RM10,000 monthly); and RM400,000 (affordable for households earning RM12,000 monthly).
3. Making those who already own property also eligible for affordable housing, as long as the property owned is purchased after 2008 and does not exceed the price of the affordable home they intend to buy. Previously, only those who owned low and low-medium cost homes were allowed to buy a second property in the affordable category.
4. Allowing developers of projects with 100% affordable units to sell 30% of the units in the open market, upon the condition that this 30% is sold at 10% above the controlled price in all the state, except in the northeast district, where the price must be 20% above.
Those purchasing these units must be registered Penang voters and they can only buy a unit each. The moratorium for such a unit is five years from the handover of keys.
The developer of this open-market category units will also have to make a contribution to the state government for the top-up in price. The contribution will be made in the form of actual affordable housing units in the particular project, so the Penang government will have a stock of affordable housing units to allocate to those on its list of applicants.
Jagdeep said, hopefully, the revision of the nett household income cap would enable more applicants to obtain bank loans and Penang, tp see a better take-up rate.
"It was confirmed two weeks ago that the state will introduce these measures to stimulate the market. If Bank Negara and the federal government cannot do anything because of issues that have deflected them from bread and butter issues, Penang will do it.
"Property prices in Penang will remain strong because the state administration is strong. Although there are certain things in Penang that are beyond our control, we will continue to be strong as far as housing is concerned.
"The state is concerned about ensuring that affordable housing is accessible to Penangites. As the housing exco, that is my number one priority," he said, adding that perhaps Putrajaya could "learn from Penang" in knowing what to include in its Budget 2016 for housing.
Jagdeep said the Penang government had been trying to discuss the bank loan issue with Bank Negara Malaysia and that in July, he had requested for a meeting to be held between Bank Negara governor Tan Sri Dr Zeti Akhtar Aziz and Chief Minister Lim Guan Eng.
He said the central bank recently informed Lim's office that assistant governor Abu Hassan Alshari Yahaya would be sent to see the chief minister.
Jagdeep said he would be arranging to meet with Hassan himself to discuss the relaxation of bank loan prerequisites for buyers of affordable housing.
"I am ready to meet with Zeti's representative and we hope the meeting will have a positive outcome," he added. – The Malaysian Insider
Interested in buying a condo in Penang? Click here.