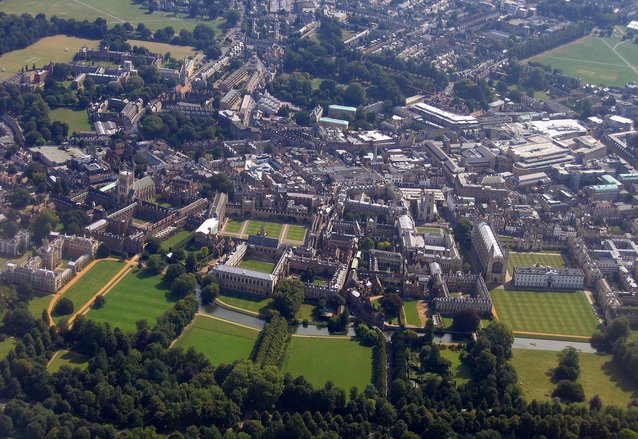 It is a British city known for a world-famous university that has produced more Nobel Prize winners than any other institution in the world, including British-American economist Angus Deaton, this year's recipient of the Nobel Memorial Prize in Economic Sciences.

But homeowners in Cambridge would be more interested in another statistic: the one that shows that their city has been experiencing the highest house price growth in the country, rivalling even that of overpriced London.

According to Hometrack UK's latest Cities House Price Index, house prices in Cambridge in August were 11.2% higher than a year ago, nearly double the UK average of 6.3% as well as outperforming London's 10%. The index also shows that house prices in Cambridge as at August were 43.6% higher relative to its 2007 peak, outperforming London's 41.6% and the UK average of 5.9%.

Much of this East of England city's staggering house price growth is being attributed to its strong economic growth in recent years, thanks to a thriving community of academics and businesses fuelling business and technology start-ups, thus creating jobs and housing demand.

Just under an hour's commute from London, Cambridge's location in the heart of the "Silicon Fen" ecosystem of science- and technology-based companies has also drawn the likes of big pharmas GSK and AstraZeneca to set up shop here, along with Microsoft and Apple. The Economist's Bagehot column recently described Cambridge as "the most exciting technology cluster in Europe" with "a productivity level 30% above London's", generating "more patents per head than its next six British rivals put together", with "more billion-dollar companies than cities 10 times as big".

Such growth potential has also attracted property investors to Cambridge from both near and afar, with some from overseas reportedly even buying homes without viewing them physically. Property agents Savills notes on its website that international buyers make up 19% of those purchasing homes in Cambridge through them, while the majority of its purchasers are from Cambridgeshire itself. Even so, this has not deterred concerns that the city would experience the "buy-to-leave" phenomenon that has been affecting many prime London neighbourhoods, where homes left empty by their foreign owners have had an impact on local businesses and communities.

Nevertheless, high demand for homes in Cambridgeshire as well as the Eastern counties of Essex and Hertfordshire — all within commuting distance of London — are not just from investors. An increasing number of homebuyers who have been priced out of London and South East England are also looking East for more affordable housing.

As a result, the East of England is seeing the fastest rate of house price increases in the country, up 8.8% in the 12 months to end-August, according to latest Office of National Statistics figures. In comparison, the next fastest-growing region is South East England at 7.4%, while London's 4.2% is evident that house price growth in the British capital is losing momentum because of its increasingly exorbitant price tags compared with the rest of the UK.

Tenants shying away from London's rocketing rents are also drawn by the East of England's affordability, where the average monthly rent for a two-bedroom home is less than £900 (RM5,836) compared with over £2,000 in London. This has also fuelled rental growth in the Eastern region, where average rents have risen 6.4% between the third quarter of 2014 (3Q14) and 3Q15, compared with 3% in London and 4.5% outside Greater London, figures from property website Rightmove show.

In fact, the East of England not only leads the way in terms of rental growth, but this combined with strong capital growth are also providing landlords in the region with the best total returns outside London. According to Rightmove's latest Rental Trends Tracker, eight of the top 10 towns with the best property returns are located in the East, with four of them — Halstead, Brentwood and Purfleet in Essex, and Borehamwood in Hertfordshire — registering total returns of over 25%.

What is attractive about many of these towns is that their average asking prices for homes are below the national average, making them affordable for investors, Rightmove adds. But if it is a bargain that investors are looking for, they would do well to also consider two East of England cities that are slightly farther from London, but were recently identified as being among the country's up-and-coming areas.

The Norfolk capital of Norwich and Suffolk capital of Ipswich made it onto online estate agents HouseSimple's list of the UK's Top 10 property hotspots for the next decade, which was compiled based on key factors such as availability of local amenities, a low crime rate, good transport links, a young population and, crucially, below-average house prices.

With Norwich's house prices averaging £196,472, and £182,882 for Ipswich — both below the UK average of nearly £204,674, according to HouseSimple's figures — there is certainly upside potential for both cities. Add to this the possibility of regeneration in the near future, and they could soon be giving neighbouring Cambridge a run for property investors' money.

Lim Yin Foong was founding editor of Personal Money, a Malaysian personal finance magazine published by The Edge Communications. She is currently based in Norwich in the UK. This article first appeared in The Edge Singapore.