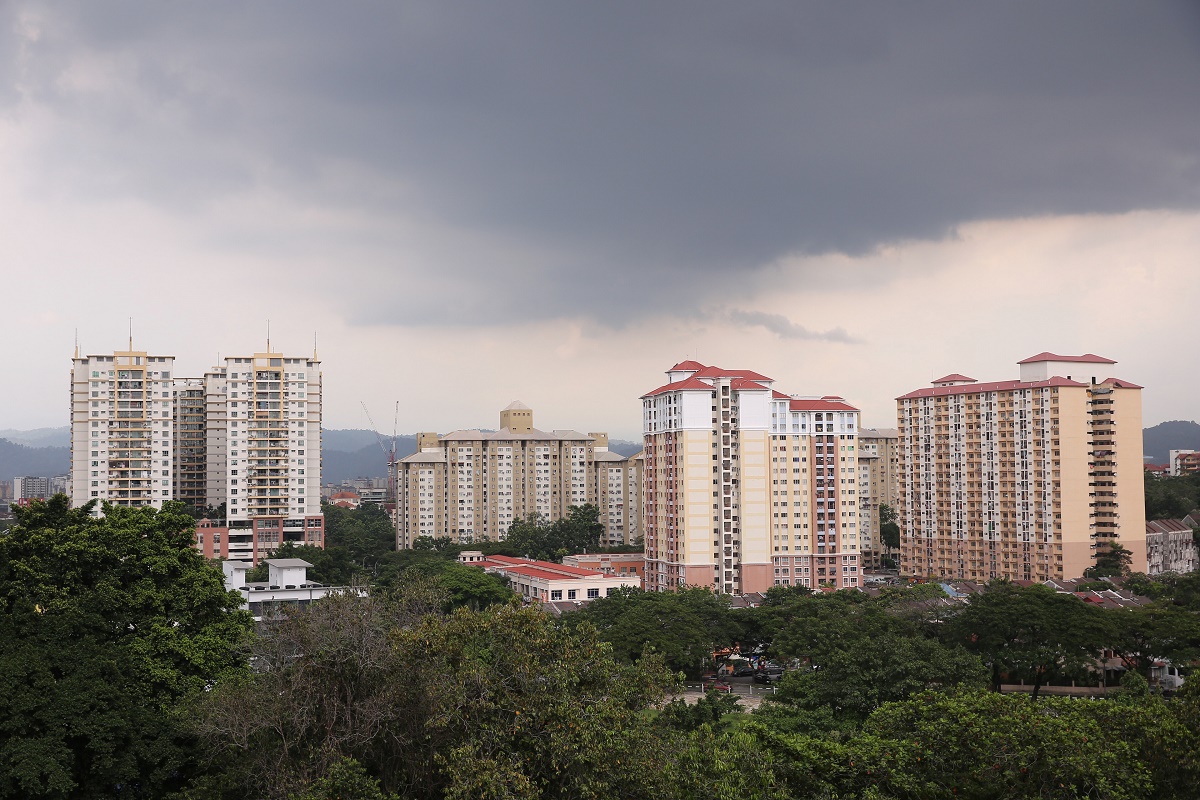 The volume and value of small size, non-landed residential properties have escalated last year as oversupply looms.
Data from AuctionGuru.com.my showed that there were 1,023 units of serviced apartments and serviced suites worth RM493 million put up for auction in 2017.
The record-high figures were about two times the volume and value of the figures recorded in 2016 which saw 342 auction cases of such units worth RM146 million.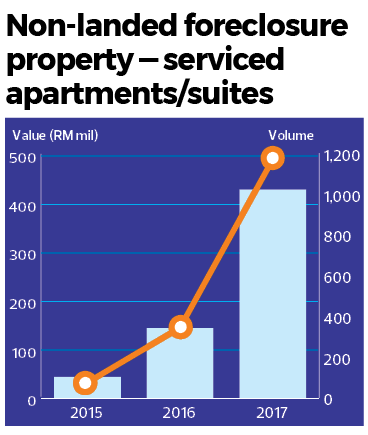 The spike last year was even more significant when compared with the 102 cases worth RM33 million in 2015, which translate into an increase of nine times in volume and 14 times in value.
"The majority of these properties has a built-up of between 500 and 700 sq ft, which makes them highly affordable for property investors," AuctionGuru.com.my executive director Gary Chia tells EdgeProp.my.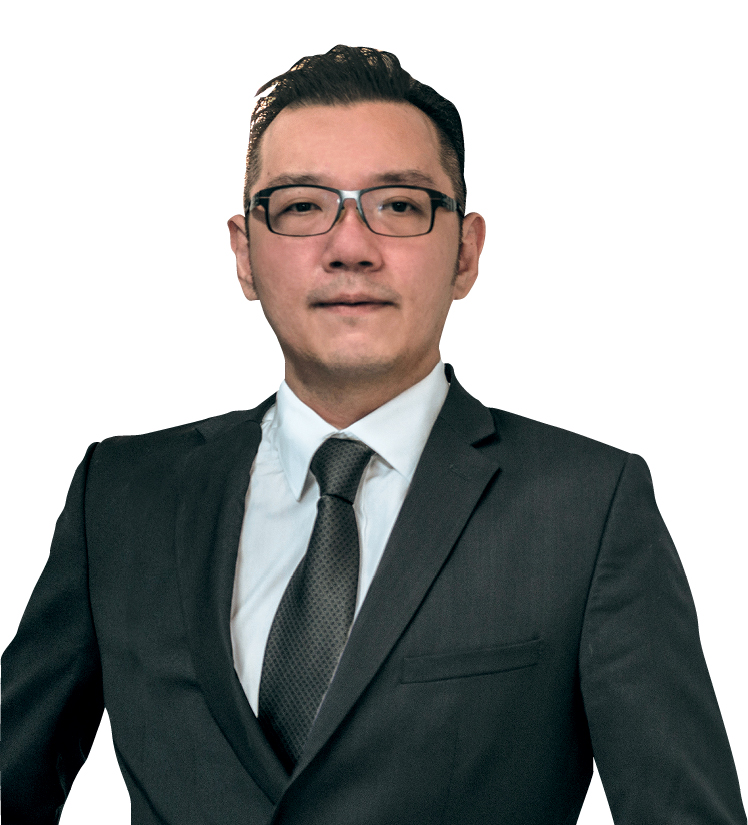 "Unfortunately, there is an oversupply of this type of serviced apartments and serviced suites in the market which has pushed down rentals as their owners are rushing to rent them out. But some were forced to abandon their mortgage commitments when they failed to offload them on the market," he says.
More small office units up for auction
Similarly, Small-office Home-office (SoHo), Small-office Versatile-office (SoVo) and Small-office Flexible-office (SoFo) units which fall under the foreclosure commercial property segment, have also registered a significant increase on the auction market, in both volume and value, last year.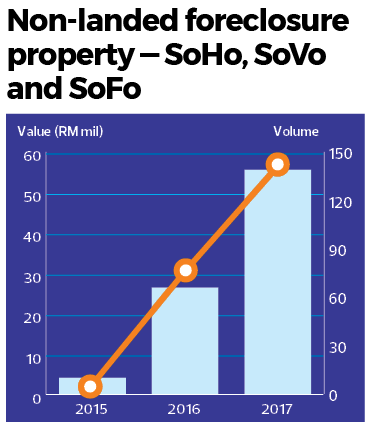 There were 139 units worth RM57 million of these commercial units that went under the hammer in 2017, a 110.61% rise in volume and 83.87% rise in value from the year before. In 2015, there were only 10 such auction cases worth RM3 million.
According to Chia, the spike in SoHos, SoVos and SoFos can also be attributed to the excessive supply of these properties, thus impacting rental returns and, in turn, the loan repayment capabilities of their owners.
Besides these non-landed properties, there were four malls located in Kedah, Johor and Kelantan with a collective value of RM258 million which were put up for auction in 2017. In comparison, there were only two foreclosed malls worth RM6 million in 2016 while no mall was auctioned in 2015.
"This is a certain impact from e-commerce and we foresee this trend to deepen in line with the evolution towards a connected virtual world. The stiff competition in the local business environment, the increase in costs of doing business and consumers' cautious spending are also factors that affect malls," he says.
Value of auction properties passes RM10 billion
Overall, the total value of foreclosure property has exceeded the RM10 billion mark in 2017 with 28,262 units worth RM12.2 billion recorded in the year, an increase of 8.3% in volume and 24% in value from 2016. However, the volume was down slightly by 1.7% from the volume recorded in 2015 although total value was up 59.83%.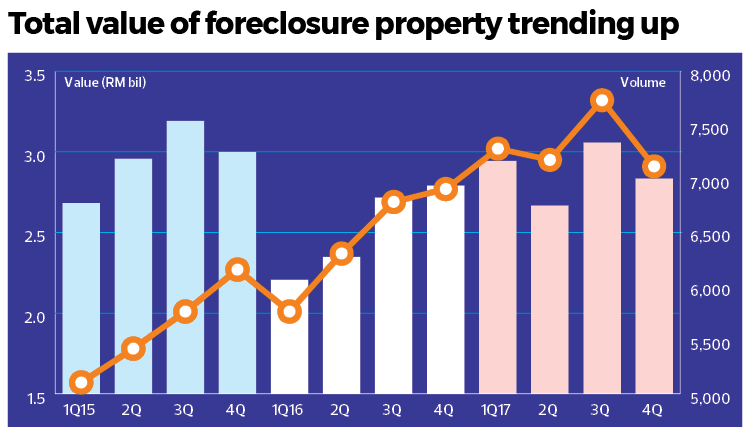 "The rise in auction properties in 2017 was driven by the persistent market imbalance, cautious bank lending coupled with elevated household debt and the adverse market sentiment," he explains.
He adds that high financing cost and interest rates are other factors that pose a burden to existing homeowners and investors.
Not surprisingly, the central region (Kuala Lumpur, Selangor and Negeri Sembilan) – being the most densely populated and centres of business activities – continues to record the highest number of auction properties in Malaysia with 15,003 units worth RM7.6 billion recorded in 2017. An average of 2,355 units were auctioned every month in the central region with an average value of RM1 billion.
This is followed by the northern region (Perlis, Kedah, Penang and Perak) with about 522 units worth RM120 million per month; the southern region (Johor and Melaka) with an average of 338 units worth RM163 million per month; Sabah and Sarawak with an average of 180 units worth RM70.75 million per month; and the east coast region (Kelantan, Terengganu and Pahang) with an average of 65 units worth RM31 million per month.
Notably, the volume and value of foreclosure property in the southern region increased significantly in 2017 by 43.21% and 64.65% to 4,060 units and RM1.96 billion, respectively.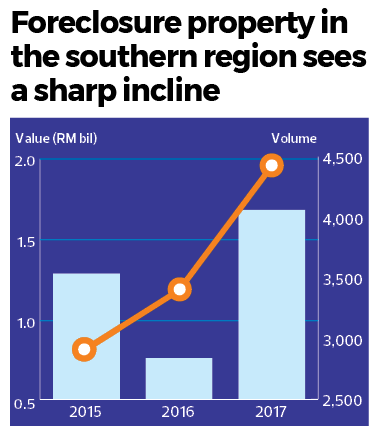 "This was mainly due to the sizeable ongoing projects in the Iskandar development region, the soft business environment and the cautious mode of local spending," says Chia.
Outlook
Chia expects the total number and value of foreclosure properties to rise in 2018, as the imbalances in the property market prevails and with interest rates to rise further.
"We estimate that [the] volume and value of auction properties will rise between 5% and 10% this year," he says.
However, he believes the rising trend will not pose any systemic risk to the banking sector and the overall economy in the short to medium term.
Chia says there is no quick solution to the rising number of foreclosure properties which was the result of the excessive exuberance in the property market and the more relaxed lending policy in the past.
"We do not foresee any change to market conditions in the short term. Nonetheless, we view this trend positively as this is part of market adjustment which will put the property market in a better footing after this," he concludes.
This story first appeared in EdgeProp.my pullout on April 20, 2018. Download EdgeProp.my pullout here for free.