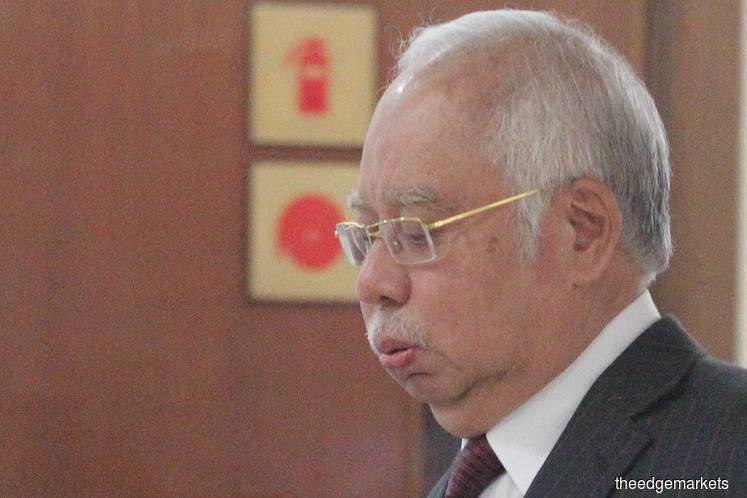 KUALA LUMPUR (Dec 11): Former prime minister Datuk Seri Najib Razak today claimed he did not know how funds in SRC International Sdn Bhd were spent after the RM2 billion loan was disbursed by the Retirement Fund Inc (KWAP).
When pushed by Attorney-General Tan Sri Tommy Thomas, Najib said the movement of the money was an operational matter, and that as the Finance Minister and advisor emeritus of SRC, he was only concerned with policy matters.
Thomas: I put it to you that you were not aware shortly after the government guarantee was given. You were no longer interested in SRC?
Najib: No, this was [an] operational matter.
Thomas: No, are you saying to His Lordship [Justice Mohd Nazlan] that after the money came in, you were not interested with where the money was disbursed and what SRC did with the money?
Najib: This was [an] operational matter.
Thomas: Are you saying that you were not interested in the company?
Najib: No, I don't get involved in the management of the company.
Thomas: I put it to you that you were closely following the money from KWAP to SRC and later from SRC outwards.
Najib: I disagree.
During the prosecution stage, former SRC chairman Tan Sri Ismee Ismail had testified that Nik Faisal Ariff Kamil — the company's ex-managing director and chief executive officer whose whereabouts are currently unknown — had referred to minutes dated Sept 7, 2011 of a meeting between himself and Najib where the former premier had asked him to transfer RM1.8 billion of the funds abroad.
The prosecution had tried to have the minutes admitted as evidence, but it was disputed by the defence, so the court eventually classified it as ID499.
Earlier, Najib clarified that the RM2 billion fund SRC received from KWAP was initially set aside for investment purposes. Six months after that, another RM2 billion loan application was made to KWAP.
"[It was set aside for] planning for immediate investment. That was what I was told," Najib said.
Thomas then asked Najib if he knew whether this meant that the first RM2 billion remained as cash in bank.
Najib: I was not sure. But when I asked them, they said it was for investment purposes.
Thomas: Did you ask them [where the money was]?
Najib: I didn't ask them where the money was. They said for investment.
According to Najib, the process to table the government guarantee for SRC's RM2 billion loan to the Cabinet in 2011 was rushed, because there was an investment opportunity waiting for the company.
The whole approval process by the Cabinet was done in two days, as per the testimonies of previous witnesses involved in the process.
"[The rush was] because they said there was an investment opportunity, thus there was a need to work on SRC funding. That was why this was done [hurriedly].
"And I want to state here that it was not unusual for the need of any companies to be worked on in such a short period of time," Najib added.
However, when Thomas asserted that the disbursement of the first RM2 billion loan in late 2011, following the expedited Cabinet approval of the government guarantee for the loan, was due to the former premier's personal involvement in the matter, Najib disagreed.
He explained that he wanted SRC to fulfil the national energy objectives, one of which was to diversify the nation's energy sources, as Malaysia seemed to be too reliant on oil and gas.
For that, Najib said SRC was to invest in coal and uranium. The company also wanted to study the viability of nuclear power in the country.
Najib has claimed trial to seven charges of criminal breach of trust, abuse of power and money laundering of RM42 million from SRC.
If convicted, he is liable to a 20-year jail term and a fine of RM5 million or five times the amount of money laundered, whichever is higher.