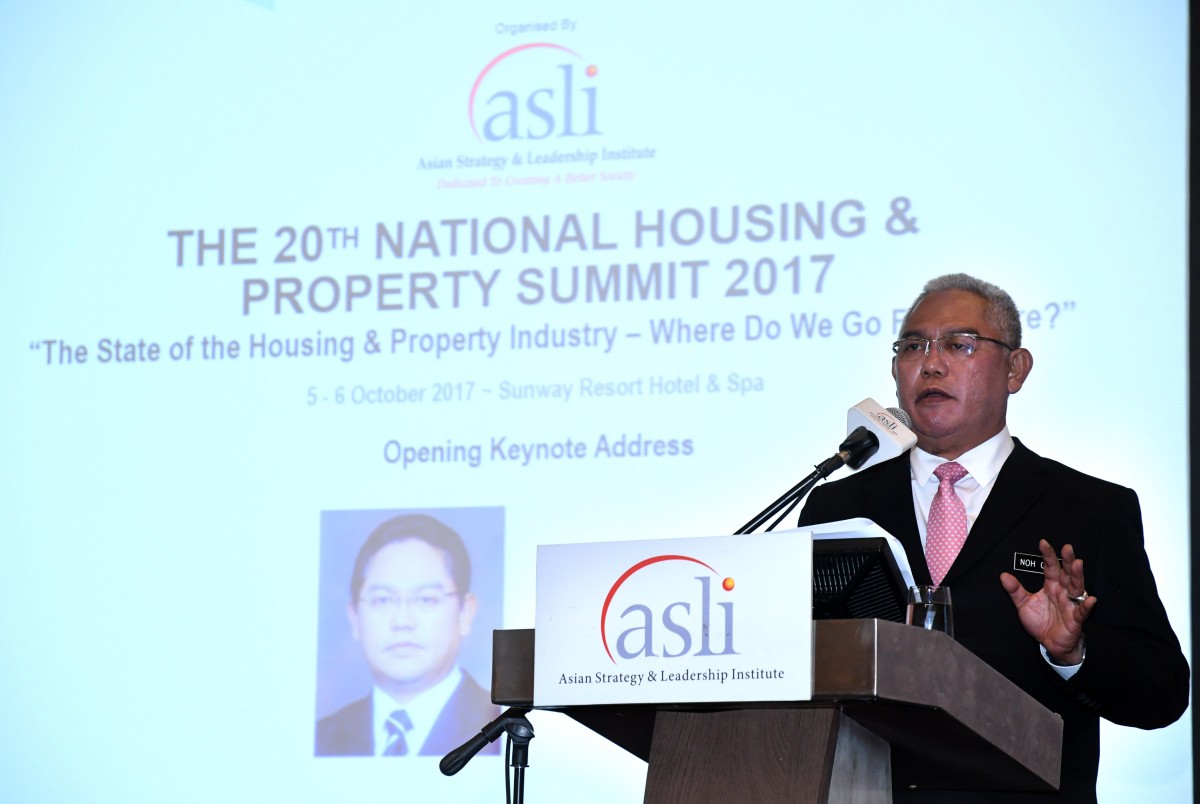 PETALING JAYA (Oct 5): Developers who are not able to deliver their residential projects on time may request for an extension of an additional 12 months from the original 36 months, provided no sale and purchase agreement has been signed, said Minister of Urban Wellbeing, Housing and Local Government Tan Sri Noh Omar.
"For instance, if you have your advertising permit and developer licence and you realise you might be unable to deliver your project in 36 months, you can appeal to us to extend the project delivery time to 48 months. But if you have sold any of the units, that can't be done," he explained.
Upon the signing of the sale and purchase agreement, a property must be built within 36 months from the date of contract, otherwise the developer is liable to pay the buyer compensation for late delivery or liquidated ascertained damages (LAD), which is usually 10% of the property price.
* House prices will not come down — but sizes will
* Govt should pick "low-hanging fruits" to make big changes in property market
* More public-private sector partnerships vital to drive IBS usage
* Bigger affordable housing allocation for Budget 2018
* Are you launching the right products?
* Forest City won't suffer from low occupancies in long term
* What do youths want in their homes?
* Housing bubble likely if two key issues are not addressed
* Property rental market needs regulation, says Finance Minister II
* Housing glut in Iskandar Malaysia no big issue in the long term
* Instead of building affordable homes, make homes affordable for all
* A dozen sustainable ideas for developers
* E-commerce will not replace shopping malls in this lifetime
The Real Estate and Housing Developers' Association (Rehda) had earlier requested for the extension, citing a number of factors, namely that stratified properties are becoming increasingly taller — up to 50 storeys — and plot ratios have also grown, while construction times are limited to 9am to 6pm on weekdays.
Moreover, under the Strata Titles (Amended) Act 2013, developers must also issue a property's strata title concurrently with delivering vacant possession.
According to Rehda's recently released "Property industry survey 1H17 and market outlook for 2H17/18" survey, its members plan to launch 9,647 units of high-rise homes in 2H17.
The minister's statement addresses the Appellate Court's decision in February, where tardy developers must honour LAD payments to buyers, overturning an earlier decision by the Ministry of Urban Wellbeing, Housing and Local Government to extend the vacant possession time period of Sri Istana condominium at Kuala Lumpur.
The ministry had in a letter dated Nov 17, 2015 extended the time period for vacant possession to 48 months from 36 months, allowing developer BHL Construction Sdn Bhd to not pay late delivery compensation to its buyers.
Separately, Noh Omar added that he is supportive of Industrialised Building System (IBS), where 70% of each government housing development has to be built using IBS.
"For public low-cost housing projects (People's Housing Project or PPR) under my ministry, we use [IBS] 100%. From our own experience and suggestions from property developers, we understand that there are issues to ship materials if a project is located far from urban areas and that there is a lack of supply for IBS component.
"But if your project is located in urban areas, then you should use IBS for your development," he added.