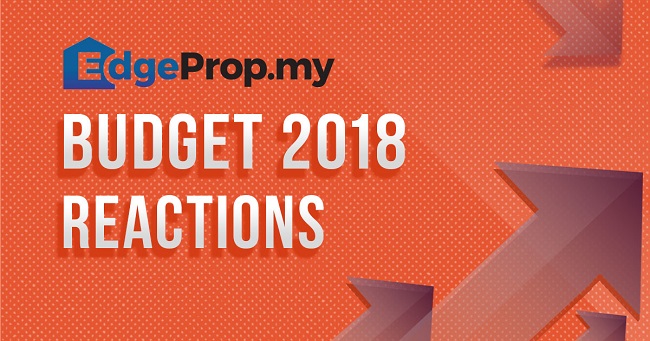 PETALING JAYA (Oct 27): Master Builders Association Malaysia (MBAM) was hoping for lower import duties for heavy construction machinery and more incentives in Budget 2018 to be disbursed to industry players who use Industrialised Building System (IBS) and Building Information Modelling (BIM), such as equipment tax reduction and tax incentives, it said in a post-budget statement today.
"We hope that the government will support us in our efforts as the government is firm on mandating the adoption of IBS in the construction industry with a three-year grace period for full implementation by the year 2020," said MBAM president Foo Chek Lee.
He added that the association hopes the government will provide tax investment allowance for new technology and machinery investment to promote the production and installation of IBS components.
* Average home prices rose in 1H17
* Budget 2018 highlights
* Developers laud govt's move to reduce cost of living, boost home ownership
* Think tanks: More could be done to boost property sector
* PEPS: No measures in Budget 2018 to arrest current property market challenges
* Rehda pleased with Budget 2018, hopes state governments will follow suit
* Budget 2018 proposals could spur the market, say economists
* Budget 2018 is good, but has no big surprises, say developers
* 50% tax exemption on rent should be given to tenants, not landlords, says RISM
* CBRE | WTW: No news on DIBS, RPGT is good news
* Budget 2018 trains eyes on rental market
* HBA: Affordable housing policy needs to be targeted at the right segment
* Budget 2018 may boost the property market 'indirectly'
"Not only can IBS products reduce the application or usage of building materials that can cause environmental damage, they also reduce the dependency of foreign workers," he said.
Meanwhile, he pointed out that an obstacle to adopting BIM is the high cost of software.
"We hope that the government can provide a subsidy for companies to adopt BIM. This will also help in IBS planning and implementation.
"Furthermore, BIM can also help in complementing the government's initiative to implement construction design and management (CDM) regulations whereby hazard and risk can be controlled from the planning and design stage," Foo added.
Nevertheless, MBAM applauded the government for a budget that "continues to undertake a delicate balancing act between maintaining fiscal prudence, managing growth as well as the people's well-being".
"A total of RM280.25 billion has been allocated for Budget 2018, an increase of RM19.45 billion or 7.45% compared with the 2017 budget allocation of RM260.8 billion.
"The association welcomes the priority afforded to people-centric projects such as affordable housing, rural housing, hospitals, roads and infrastructure upgrades such as airports for the rakyat," said Foo, adding that MBAM is also appreciative of the government maintaining the good and services tax rate at 6%.
He noted that all the announced infrastructure spending will mean that the construction industry will require sufficient manpower to complete these projects within the time frame and budget.
"There should be a realistic understanding that construction industry needs workers to fill in the demand-supply gap for manpower in the construction industry. As such, MBAM hopes that the policy with regards to the employment of workers can be looked at in a holistic manner so that the aspiration of both the public and the private sector can be satisfied.
"However, MBAM appreciates the increase of budget on the technical and vocational education and training of RM4.9 billion, which will increase the number of local skilled workers and productivity and reduce the dependency on the foreign worker," he concluded.