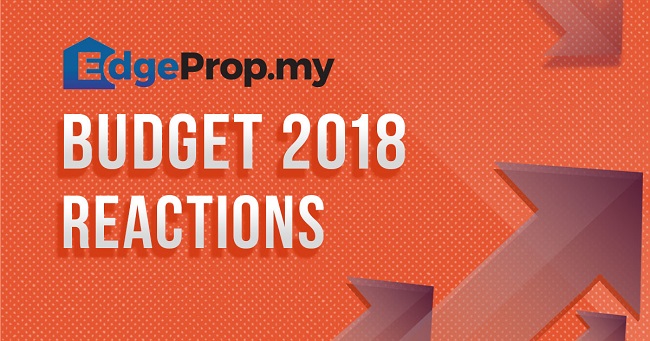 PETALING JAYA (Oct 27): Budget 2018 shows that the government is doing their best to address the issues faced by the rakyat, but there were no major surprises announced, said property developers.
However, one announcement that caught the attention of developers is the early completion of the mass rapid transit (MRT) Line 3.
The early completion will not only enhance the value of properties owned by many homeowners in the vicinity, but also generally improve workforce efficiency and productivity by cutting what would otherwise be a lengthy time spent in traffic, thus resulting in higher public disposable income, Eupe Corp Bhd group managing director Datuk Beh Huck Lee told EdgeProp.my.
* Average home prices rose in 1H17
* Budget 2018 highlights
* Developers laud govt's move to reduce cost of living, boost home ownership
* MBAM had hoped for lower import duties on machinery and IBS incentives in Budget 2018
* Think tanks: More could be done to boost property sector
* PEPS: No measures in Budget 2018 to arrest current property market challenges
* Rehda pleased with Budget 2018, hopes state governments will follow suit
* Budget 2018 proposals could spur the market, say economists
* 50% tax exemption on rent should be given to tenants, not landlords, says RISM
* CBRE | WTW: No news on DIBS, RPGT is good news
* Budget 2018 trains eyes on rental market
* HBA: Affordable housing policy needs to be targeted at the right segment
* Budget 2018 may boost the property market 'indirectly'
"However, there are no significant surprises in Budget 2018, although it represented a measured response to a variety of policy priorities and tabled a lot of good policies.
"In addition, government affordable housing schemes need to be carefully monitored as there is a penitential risk of creating a crowding out effect in the market if there is too much supply of government-funded housing," he said.
IJM Land managing director Edward Chong concurred about the benefit from the early completion of the MRT Line 3, which is poised to create greater connectivity within the Klang Valley as it will connect with other rail lines, such as MRT Line 1, MRT Line 2 and light rail transit.
"The properties located in the vicinity of MRT Line 3, as well as those that are situated at the existing lines, will also benefit from MRT Line 3," he said.
The government's extension of the Perumahan Rakyat 1Malaysia (PR1MA) step-up end financing scheme to private developers, subject to certain criteria, was also well-received by developers.
Chong lauded the government's initiative to widen the coverage of the step-up end as it will help young people to get their feet on the property ladder faster.
"Overall, this is a very good budget as it has taken into account all categories of people. It also showed that the government is doing their best to reduce the burden of the rakyat," he said.
Sunway Bhd's property development division managing Sarena Cheah said the budget is within expectations as the developer had expected the government to present a prudent budget to ensure the country meets fiscal deficit targets.
"As such, we are pleasantly surprised that the government reduced the tax for middle-income earners and introduced a partial exemption of tax on rental income of up to RM2,000 a month. We are also heartened by the substantial spending on education and healthcare, which will ensure the sustainable growth of the country.
"We also welcome the extension of the step-up end financing scheme as it will certainly help buyers to afford their dream home. The major issue for property buyers over the last two years has been the ability to obtain the necessary financing," she added.