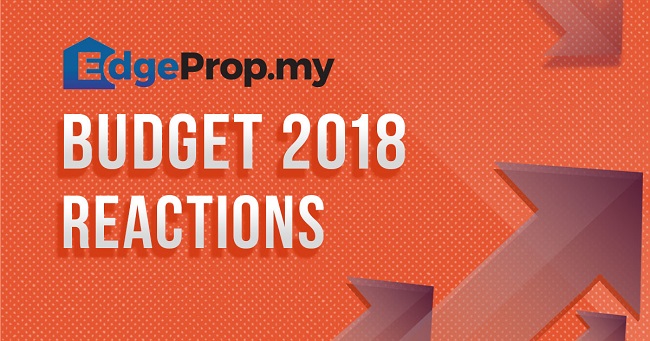 PETALING JAYA (Oct 27): The National House Buyers Association (HBA) has lauded the government's move to build more affordable homes. However, it said the government needs to ensure that the homes reach the right target market.
"They must build the right product at the right place with the right pricing and the right numbers," said HBA honorary secretary-general Chang Kim Loong in a statement following the tabling of Budget 2018 today.
He notes that the move of extending the step-up financing scheme to private developers could help wage earners own homes but this could be detrimental in the mid to long term as developers may be inclined to increase house prices, knowing that buyers can take up higher end-financing.
* Average home prices rose in 1H17
* Budget 2018 highlights
* Developers laud govt's move to reduce cost of living, boost home ownership
* MBAM had hoped for lower import duties on machinery and IBS incentives in Budget 2018
* Think tanks: More could be done to boost property sector
* PEPS: No measures in Budget 2018 to arrest current property market challenges
* Rehda pleased with Budget 2018, hopes state governments will follow suit
* Budget 2018 proposals could spur the market, say economists
* Budget 2018 is good, but has no big surprises, say developers
* 50% tax exemption on rent should be given to tenants, not landlords, says RISM
* CBRE | WTW: No news on DIBS, RPGT is good news
* Budget 2018 trains eyes on rental market
* Budget 2018 may boost the property market 'indirectly'
"The government should take measures to slow down escalating property prices by increasing the entry and exit cost of owners of multiple properties such as increasing the stamp duty and real property gains tax," he offered.
Beside this, HBA also suggested the government to give more incentives to developers to build affordable properties such as alienating land at lower cost, giving fast track approvals and even tax exemptions.
In addition, HBA has called for the cost of laying the last mile of utilities such as water, electricity, sewage and telecommunications to be borne by the respective utility companies in order to lower the cost of properties.
On the tax exemption for rental income, Chang said that as there was no announcement regarding tenants being able to claim tax deduction on such rentals paid, the move may instead encourage more speculative purchases of residential properties by property syndicates and investors club, which will further drive up property prices.