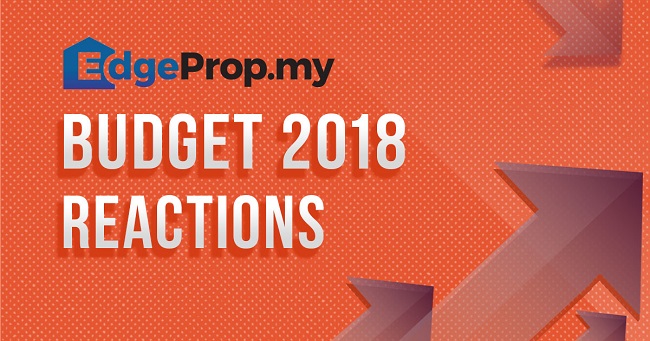 PETALING JAYA (Oct 27): The Real Estate and Housing Developers' Association Malaysia (Rehda) views Budget 2018 positively and urged the state governments to follow suit in providing homes for the B40 and M40 groups.
"The allocation of RM2.2 billion for the housing sector is huge. Now we hope the state governments will take proactive steps to match the measures announced by the federal government, especially in building low-cost homes priced between RM35,000 and RM42,000.
"Then for us property developers, we will look into affordable housing which is priced from RM200,000 onwards," said its president Datuk Seri FD Iskandar Mohamed Mansor at a press conference today.
* Average home prices rose in 1H17
* Budget 2018 highlights
* Developers laud govt's move to reduce cost of living, boost home ownership
* MBAM had hoped for lower import duties on machinery and IBS incentives in Budget 2018
* Think tanks: More could be done to boost property sector
* PEPS: No measures in Budget 2018 to arrest current property market challenges
* Budget 2018 proposals could spur the market, say economists
* Budget 2018 is good, but has no big surprises, say developers
* 50% tax exemption on rent should be given to tenants, not landlords, says RISM
* CBRE | WTW: No news on DIBS, RPGT is good news
* Budget 2018 trains eyes on rental market
* HBA: Affordable housing policy needs to be targeted at the right segment
* Budget 2018 may boost the property market 'indirectly'
Rehda lauded the federal government for taking the initiative to address the high cost of living through the reduction of tax, abolishment of several tolls in Selangor, Kedah and Johor as well as subsidies for basic necessities and transportation.
"We believe these incentives will give the much-needed boost to the populace by increasing their disposable incomes. Rehda is extremely pleased with the step-up financing scheme being expanded to private property developers and we thanked the federal government for heeding Rehda's proposal.
"It's a good move for the industry. Yes, we have several things in our wishlist but I understand that the Budget has to be a balanced one as there are other sectors that the federal government has to look into.
"Budget 2018 is an impetus for us to head towards a better direction. I'd like to think the property market has bottomed out as our broad figures look good," added FD Iskandar.
On the partial tax exemption for home rental income of RM2,000 and below to promote residential lettings as well as the formulation of a Residential Rental Act to protect landlords and tenants, he said it will be a move towards establishing a steady rental market.
"For the first time ever, the government has introduced such a measure. Not everyone can afford to buy so for those who can't, there should be a steady rental market," he said.
FD Iskandar also supported the allocation of RM200 million for the maintenance and fixing of homes including the Tabung Penyelenggaraan 1Malaysia as this would ease the burden of those living in Project Perumahan Rakyat (PPR).
"The thing about affordability is that it's a global topic, not just in Malaysia. And affordable housing has the highest demand now. I support the government's plan to establish a single agency or body to oversee the affordable housing segment.
"What is missing here is big data as to where these homes should be built, how many are needed etc. This body should look into where is the demand [for affordable housing]," he said.
On loan rejections, FD Iskandar said Rehda has requested a meeting with the Association of Banks in Malaysia, who had refuted his claims that homebuyers are finding it tougher to obtain housing loans and that loan approval times are increasing.
"Let's not point fingers. I'm not plucking things out of the air. Our members have come back to us saying that this is the loan rejection rate. If the rejection rate is as low as they said, then something must not jive. Hence, we need to sit down and discuss this," he said.