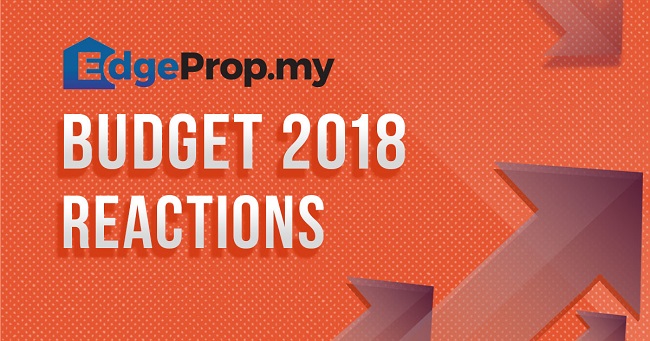 PETALING JAYA (Oct 27): Although Budget 2018 doesn't have any significant proposals for the property market, some of the proposals may indirectly offer opportunities to boost demand for houses.
Malaysian Institute of Estate Agents (MIEA) president Eric Lim said the reduction in individual tax rates could help in increasing disposable income, thus raising an individual's chance of securing a housing loan.
"For middle-income wage earners, by reducing the tax rates by 2%, it means that their take-home income will increase and there will be higher chances they could get a loan to purchase a property," he told EdgeProp.my.
* Average home prices rose in 1H17
* Budget 2018 highlights
* Developers laud govt's move to reduce cost of living, boost home ownership
* MBAM had hoped for lower import duties on machinery and IBS incentives in Budget 2018
* Think tanks: More could be done to boost property sector
* PEPS: No measures in Budget 2018 to arrest current property market challenges
* Rehda pleased with Budget 2018, hopes state governments will follow suit
* Budget 2018 proposals could spur the market, say economists
* Budget 2018 is good, but has no big surprises, say developers
* 50% tax exemption on rent should be given to tenants, not landlords, says RISM
* CBRE | WTW: No news on DIBS, RPGT is good news
* Budget 2018 trains eyes on rental market
* HBA: Affordable housing policy needs to be targeted at the right segment
He noted that the 50% tax exemption for rental income for residential properties of up to RM2,000 a month could help spur the rental market.
"Generally, the emphasis is on affordable housing but not really for the middle-income group. However, there are indirect measures which could stimulate the property market," said Lim.
Kim Realty training and development director Lim Boon Ping concurred that indirect measures, such as the tax exemption on rental income and income tax reduction for certain income groups, are measures that are beneficial to the middle-income group.
"By increasing their disposable income, the middle-income group might consider buying other properties for long-term investment. This could have some positive impact to the property market," he added.
Axis REIT Managers Bhd head of investments and MIEA immediate past president Siva Shanker said the market shouldn't neglect the potential multiplier effect created by the indirect measures.
"Any savings on tax or from a step-up financing scheme could have an impact to the market. As long as the market remains vibrant, there will be more opportunities for both industry players and buyers," he said.
He lauded the move to expand the step-up financing scheme to private developers as this could help potential buyers to own a house without over-stretching their financial strength.
Meanwhile, One Sunterra Properties Sdn Bhd managing director Sara Lai said Budget 2018 has put more emphasis on low-medium income earners as it offers to build more affordable homes via various schemes.
She noted that out of the RM2.2 billion allocation, RM1.5 billion was to construct PR1MA housing priced below RM250,000.
"Another laudable move is the stamp duty exemption on loan agreements and letter of consent of transfers to rescuing contractors and original owners of abandoned developments. We hope this proposal will at least reduce the number of abandoned projects in the country," she said.
On the reduction of tax on rental income, she opined that more investors may buy properties that can bring in rental income of less than RM2,000 to enjoy the above tax benefits," she added.