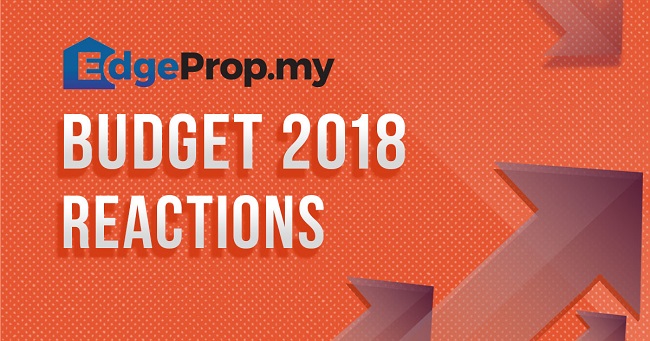 KUALA LUMPUR (Oct 27): Budget 2018 has failed to address the challenges faced by the current property industry, said the Association of Valuers, Property Managers, Estate Agents and Property Consultants in the Private Sector Malaysia (PEPS) in a statement following the tabling of the budget today.
The property industry and property market are still plagued with many challenges and problems such as oversupply, overbuilding, high costs and mismatch between supply and demand as well as end financing issues, said PEPS Budget Committee chairman James Wong.
"It is noted that Budget 2018 did not come with any measures or incentives to arrest the problems stated above and to tackle the revival of the property market.
* Average home prices rose in 1H17
* Budget 2018 highlights
* Developers laud govt's move to reduce cost of living, boost home ownership
* MBAM had hoped for lower import duties on machinery and IBS incentives in Budget 2018
* Think tanks: More could be done to boost property sector
* Rehda pleased with Budget 2018, hopes state governments will follow suit
* Budget 2018 proposals could spur the market, say economists
* Budget 2018 is good, but has no big surprises, say developers
* 50% tax exemption on rent should be given to tenants, not landlords, says RISM
* CBRE | WTW: No news on DIBS, RPGT is good news
* Budget 2018 trains eyes on rental market
* HBA: Affordable housing policy needs to be targeted at the right segment
* Budget 2018 may boost the property market 'indirectly'
"There were also no incentives to assist first-time buyers to buy their first home," said Wong.
PEPS had highlighted in its budget wishlist the issue of housing affordability for the middle 40% of the population (M40), the mismatch between house prices and income levels, the lack of state land released at cheaper price for affordable housing development, and high infrastructure and compliance costs.
Nevertheless, PEPS lauded the allocation of RM2.2 billion for housing, of which RM1.5 billion is allocated for PR1MA housing to build 210,000 units priced at RM250,000 and below per unit over a period of two years.
"This addresses the affordable housing issues in terms of financial capacity to buy and also to assist in increasing the supply of affordable homes. The extension of the step-up financing scheme by PR1MA to projects by private developers is also welcome news," he said.
PEPS also welcomed the tax exemption of 50% for rental income up to RM2,000 per month from 2018 to 2020.
On the use of the Industrialised Building System (IBS), Wong said more could be done to encourage the implementation of IBS in the country.
"In Budget 2018, the proposed allocation of RM2.5 billion for the use of IBS is only applicable for the improvement and maintenance of dilapidated school buildings. Although it is an initial step towards the implementation of IBS, PEPS hopes that more incentives and grants will be given to builders and housing developers who adopt the IBS," said Wong.