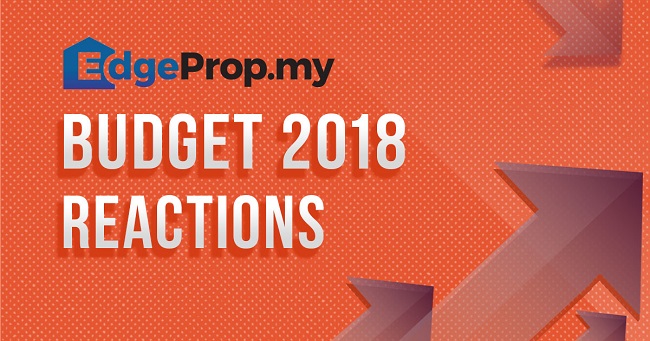 PETALING JAYA (Oct 27): Economists and analysts are viewing the housing and construction-related proposals in Budget 2018 positively as they could spur the property market.
Kenanga Investment Bank head of equities research Sarah Lim lauded the government's move to expand the step-up financing scheme to private developers as this could help in encouraging more homeownership.
However, she said more details are needed before one could evaluate its impact on the property market.
* Average home prices rose in 1H17
* Budget 2018 highlights
* Developers laud govt's move to reduce cost of living, boost home ownership
* MBAM had hoped for lower import duties on machinery and IBS incentives in Budget 2018
* Think tanks: More could be done to boost property sector
* PEPS: No measures in Budget 2018 to arrest current property market challenges
* Rehda pleased with Budget 2018, hopes state governments will follow suit
* Budget 2018 is good, but has no big surprises, say developers
* 50% tax exemption on rent should be given to tenants, not landlords, says RISM
* CBRE | WTW: No news on DIBS, RPGT is good news
* Budget 2018 trains eyes on rental market
* HBA: Affordable housing policy needs to be targeted at the right segment
* Budget 2018 may boost the property market 'indirectly'
In tabling Budget 2018 today, Prime Minister Datuk Seri Najib Tun Razak announced that the step-up financing scheme introduced by PR1MA will be extended to private developers.
"Generally, Budget 2018 is putting more emphasis on affordable housing which could benefit low income earners," she told EdgeProp.my.
However, Lim stressed that to make housing more affordable for the mass market, the government needs to work with private developers to offer reasonably priced products.
Meanwhile, Socio-economic Research Centre (SERC) executive director Lee Heng Guie said the proposed 50% tax exemption on rental income could encourage property owners to lease out their properties.
"There is ample supply of empty houses in the market where a majority of the property owners who have strong holding power didn't see a need to lease out but now they have more reason to do so," he explained.
To spur the rental market further, Lee said the government will need to look into providing tax exemption or rebates to wage earners seeking to rent rather than buy their own property.
"In terms of affordability, I always believe that if a young wage earner can't secure a housing loan or does not have enough savings, they should rent affordably and buy later when they have a more stable income," Lee said.
To encourage the residential rental market, for the first time in 60 years, Budget 2018 has announced a 50% tax exemption will be given on rental income up to RM2,000 a month for residential properties.
The exemption is given for assessment years from 2018 to 2020. The government will also be formulating a Residential Rental Act to protect tenants and landlords.
Although Budget 2018 did not have direct measures to act as stimulus for the property market, Professor of Economics at the Business School of Sunway University Dr Yeah Kim Leng noted that the various infrastructure developments planned could be a catalyst for the property sector.
"As expected, there is a great emphasis on infrastructure development with a focus on improving the public transportation system. With easier accessibility, I believe homebuyers will choose to purchase a home outside the city centre but near to public transportation hubs," he explained.
However, he noted that the last mile connection, such as the feeder bus system, is equally important otherwise people will still choose to stay in places within walking distance to the public transportation system and the impact on the property market will be limited.