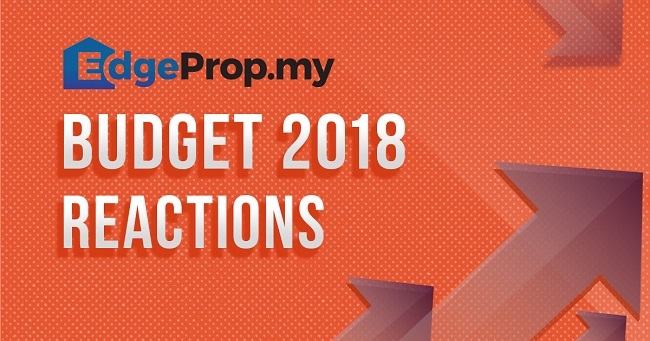 PETALING JAYA (Oct 27): Property developers lauded the government's various initiatives in Budget 2018 that aims to address the affordable housing gap and rising cost of living.
In a press statement today, Bina Darulaman Bhd group managing director Izham Yusoff said the developer welcomes the RM2.2 billion allocation by the government to boost the housing sector, particularly homeownership.
"BDB also commends the MyHomes programme, which is an incentive for developers to construct more affordable homes for Malaysians, in addition to the RM200 million set aside for maintenance funds, stamp duty exemptions for house buyers and tax exemptions on house rentals below RM2,000,"
* Average home prices rose in 1H17
* Budget 2018 highlights
* MBAM had hoped for lower import duties on machinery and IBS incentives in Budget 2018
* Think tanks: More could be done to boost property sector
* PEPS: No measures in Budget 2018 to arrest current property market challenges
* Rehda pleased with Budget 2018, hopes state governments will follow suit
* Budget 2018 proposals could spur the market, say economists
* Budget 2018 is good, but has no big surprises, say developers
* 50% tax exemption on rent should be given to tenants, not landlords, says RISM
* CBRE | WTW: No news on DIBS, RPGT is good news
* Budget 2018 trains eyes on rental market
* HBA: Affordable housing policy needs to be targeted at the right segment
* Budget 2018 may boost the property market 'indirectly'
Meanwhile, Mah Sing Group Bhd applauded the government's measures to address the supply shortage of affordable homes and bridge the affordable housing gap, which include savings programmes and rental support and partial ownership programmes.
"There is still a supply and demand gap in the property industry with the average yearly increase of 118,000 number of household formed against the supply of 85,000 completion of new houses yearly in between 2012 to 2014," said Mah Sing group managing director Tan Sri Leong Hoy Kum.
He noted that the PR1MA Skim Pembiayaan (SPEF), which will be extended to private property developers that fulfilled certain criteria, will benefit both homebuyers and developers, as the group is launching affordably priced projects below RM500,000.
"We laud the government's continuous commitment in upgrading the nation's public transport infrastructure and hope the government will continue expanding the transportation system by extending either the Kajang MRT station or the upcoming Putrajaya station in the MRT2 alignment to Bangi. Ideally an integrated station can be developed for the two lines to meet, providing a seamless journey to all commuters," he continued.
He also commended the income tax reduction for those earning RM20,000 to RM70,000 annually as the move will help with the high cost of living, as well as provide disposable income of RM300 to RM1,000 for the rakyat to invest in and furnish their homes.
However, S P Setia Bhd president and CEO Datuk Khor Chap Jen told EdgeProp.my that while the government is stepping up its effort to take the lead in providing affordable homes to the rakyat, there is a lack of other incentives to boost the broader market, especially for the middle-income bracket, who may not be able to benefit from the above incentives to afford a home.