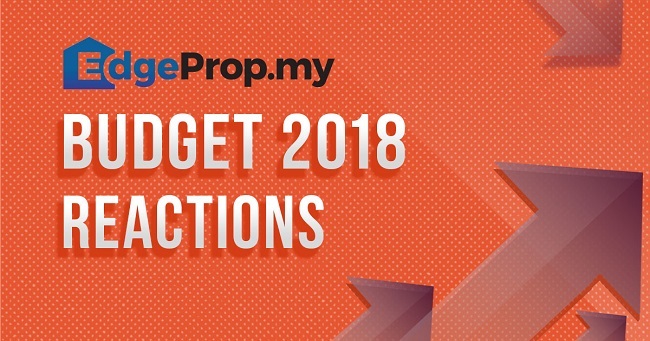 KUALA LUMPUR (Oct 27): CBRE | WTW viewed the government's move of not reintroducing the developer interest bearing scheme (DIBS) and maintaining the current real property gains tax (RPGT) rate in Budget 2018 as positive.
"CBRE | WTW views positively that the government did not reintroduce DIBS and maintained the current RPGT rates thereby continuing to curb speculative activities," said director Heng Kiang Hai in a press statement today.
He described the Budget 2018 as one that "aims at empowering the rakyat, driving economic growth and promoting sustainable socio-economic developments simultaneously".
* Average home prices rose in 1H17
* Budget 2018 highlights
* Developers laud govt's move to reduce cost of living, boost home ownership
* MBAM had hoped for lower import duties on machinery and IBS incentives in Budget 2018
* Think tanks: More could be done to boost property sector
* PEPS: No measures in Budget 2018 to arrest current property market challenges
* Rehda pleased with Budget 2018, hopes state governments will follow suit
* Budget 2018 proposals could spur the market, say economists
* Budget 2018 is good, but has no big surprises, say developers
* 50% tax exemption on rent should be given to tenants, not landlords, says RISM
* Budget 2018 trains eyes on rental market
* HBA: Affordable housing policy needs to be targeted at the right segment
* Budget 2018 may boost the property market 'indirectly'
"The Budget 2018 came against the backdrop of better-than-expected GDP growth in first-half of 2017 and the country's continuous pursuit of mega project developments especially in the public transport system."
Heng said the step-up financing scheme, which was extended from PR1MA homes to private developers, subject to a set of criteria, would ease availability of credit and therefore improve sales, as well as benefit home buyers as they would service a reduced loan repayment in the first five years of their purchase.
"Home ownership hence, may be boosted as buyers' upfront financial commitment is lower and they have longer time period to build-up their financial capacity. However, more details may be required before such a scheme can be implemented with private developers," he added.
He also believed that the goods and services tax (GST) exemption on property management of stratified properties that is extended to private developers from Jan 1, 2018 will benefit the medium 40% population (M40) as many of them occupy stratified properties.
Besides that, the government also announced that 2,000 units of houses have been added to the MyDeposit and MyHome programmes.
Under the MyDeposit programme, first time homebuyers are entitled to apply for funding from Urban Wellbeing, Housing and Local Government Ministry to cover the 10% or RM30,000 of down-payment for home purchase, whichever is lower.
"Incentives in the form of RM30,000 per sold unit of affordable housing under MyHome scheme will encourage private developers to join in the provision of affordable housing," he said.
On the partial waiver on rental income of up to RM2,000 per month, Heng said it will spur investments as the top 20% household income group (T20) investors will see better rental yields from residential property investments.
"As monthly rentals of RM2,000 are applicable to properties up to RM1 million, this is timely to stimulate renewed demand for such residential properties especially in the Klang Valley. On the other hand, the M40 income group would have more rental options as more rental properties enter the market," he explained.