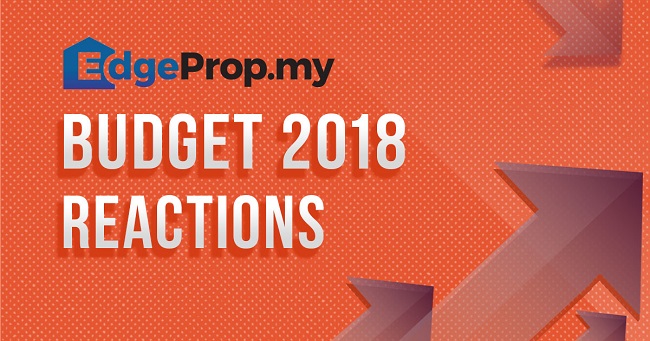 PETALING JAYA (Oct 27): While the measures announced by Prime Minister Datuk Seri Najib Razak in Budget 2018 for the housing sector show that the government is continuously trying to help first-time homebuyers, more could be done, said think tanks.
"There were expectations of reducing the real property gains tax (RPGT) to further boost the industry. The allocation for PR1MA and Rumah Mesra will help meet the growing need for low cost housing.
"The government could have provided more incentives for the Industrialised Building System as that will make delivery of houses faster and meet the growing needs.
* Average home prices rose in 1H17
* Budget 2018 highlights
* Developers laud govt's move to reduce cost of living, boost home ownership
* MBAM had hoped for lower import duties on machinery and IBS incentives in Budget 2018
* PEPS: No measures in Budget 2018 to arrest current property market challenges
* Rehda pleased with Budget 2018, hopes state governments will follow suit
* Budget 2018 proposals could spur the market, say economists
* Budget 2018 is good, but has no big surprises, say developers
* 50% tax exemption on rent should be given to tenants, not landlords, says RISM
* CBRE | WTW: No news on DIBS, RPGT is good news
* Budget 2018 trains eyes on rental market
* HBA: Affordable housing policy needs to be targeted at the right segment
* Budget 2018 may boost the property market 'indirectly'
"The My Beautiful New Homes for B40 is an interesting idea but 600 units are insufficient – a good start, nevertheless," chief executive officer of Asian Strategy & Leadership Institute (Asli) Tan Sri Michael Yeoh told EdgeProp.my.
Meanwhile, Institute for Democracy and Economic Affairs (Ideas) chief executive Wan Saiful Wan Jan lauded the tax exemption for residential rental income of up to RM2,000 and the formulation of the Residential Rental Act to protect tenants and homeowners.
"This will encourage more properties to be put into the rental market, reducing the pressure for people to buy because they will have renting as a real option.
"If implemented properly, the shift to renting may help reduce the demand pressure on house prices," he told EdgeProp.my.
Wan Saiful pointed out that while he is glad that a lot will be done for the low-income group, he is worried that this might create a dependency on government handouts among low-income earners.
"The need for more low-cost housing means that a large portion of our citizens are still too poor to be able to afford normal houses. This is not good news and can create a dependent society in the future," he warned.