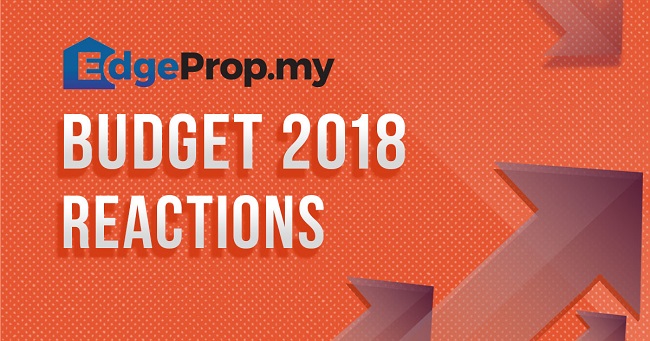 KUALA LUMPUR (Oct 27): Budget 2018's proposals to stimulate the housing rental market could mark the beginning of a greater focus on the rental market in the near future, according to Laurelcap Sdn Bhd executive director Stanley Toh.
He was commenting on Budget 2018 which was tabled in Parliament today.
While describing Budget 2018 as "not exciting", he however believed the government is putting efforts to boost the rental market.
* Average home prices rose in 1H17
* Budget 2018 highlights
* Developers laud govt's move to reduce cost of living, boost home ownership
* MBAM had hoped for lower import duties on machinery and IBS incentives in Budget 2018
* Think tanks: More could be done to boost property sector
* PEPS: No measures in Budget 2018 to arrest current property market challenges
* Rehda pleased with Budget 2018, hopes state governments will follow suit
* Budget 2018 proposals could spur the market, say economists
* Budget 2018 is good, but has no big surprises, say developers
* 50% tax exemption on rent should be given to tenants, not landlords, says RISM
* CBRE | WTW: No news on DIBS, RPGT is good news
* HBA: Affordable housing policy needs to be targeted at the right segment
* Budget 2018 may boost the property market 'indirectly'
"The key word and focus of this budget for me is the rental market," Toh told EdgeProp.my, adding that there is nothing else exciting that can bring immediate impact to the market.
He also highlighted that the Residential Rental Act to protect tenants and owners is indicative of the government's focus on the rental market in the coming years.
"The government had also announced for the first time in 60 years, the 50% tax exemption on rental income for residential properties up to RM2,000 a month to Malaysian residents residing in Malaysia. This shows that the government wants to boost this market," Toh explained.
Meanwhile, Henry Butcher Malaysia chief operating officer Tang Chee Meng commented that Budget 2018 is slightly better than last year's.
"For example, the step-up financing scheme by PR1MA is a good move and by extending it to private developers. It will help to boost the take-up of affordable homes built by the private sector.
"It will also encourage young people who have been holding back on home purchases because they don't meet the qualifying income for loans to buy their first home," said Tang.
Nawawi Tie Leung Property Consultants Sdn Bhd managing director Eddy Wong also lauded the move.
"It is a very interesting measure and it should boost the market. However, the prime minister said it would be 'based on criteria to be fixed', so we still have to wait for the details before we can comment further.
"It may only be for affordable homes within a certain price point, or only for borrowers below a certain income level, similar to the PR1MA criteria," said Wong, adding that the measure is something that can be looked forward to.
KGV International Property Consultants executive director Samuel Tan said that Budget 2018 is rather disappointing because of the lack of good news.
"The industry and Rehda (the Real Estate and Housing Developers' Association) have been hoping for some good news but not many new measures to boost the property market have been introduced," said
However, Tan welcomed the Goods and Services Tax (GST) exemption for property management of strata properties.
PPC International (Penang) Sdn Bhd executive director Mark Saw also described the GST exemption as good.
"While developers have to continue to deal with rising construction cost with no GST relief, property manager fees with no GST would mean the client, such as the management corporation who are mostly residential in nature will pay 6% less as the consultant will not have to charge it. I think this is good news" Saw noted.
Meanwhile JLL Project and Construction Management Sdn Bhd managing director Y Y Lau and head of research Veena Loh said Budget 2018 is a good people's budget.
"There is a lot of spending on infrastructures and development. For example, the government targets to complete the MRT3 two years earlier. This announcement will have a multiplier impact on the market. It can stimulate the local property market and boost prices," said Loh.